When you see a school bus or an old car you probably don't think much of it. In fact, streets in America are so packed with these hunks of metal that you likely don't even notice them half the time. That's why a few clever individuals decided to shake up their vehicle's exteriors, and transform their old cars into something completely unique. You won't believe just how wild these cars look, not to mention all the incredible features they have. Keep an eye out for these bad boys shaking up the road, and see if this list inspires you to show your individuality via your personal ride.
​A Truck Turned Into A Vibrant House
This has to be one of the funkiest houses anyone has ever seen! The unique truck was transformed thanks to a combination of wood with vibrant colors, planter boxes of flowers, and of course, a signature colorful door. And it might not look like it at first glance, but the truck seems to have quite a bit of space inside, with the open portion making for an adventurous rooftop.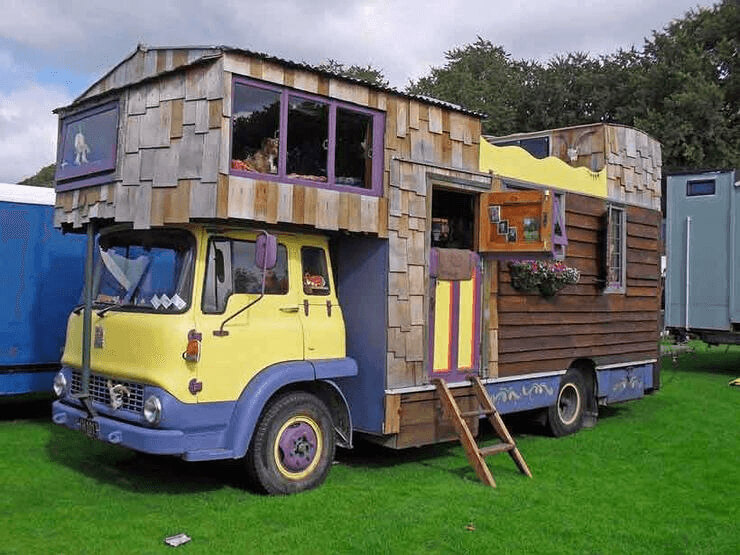 We can only imagine the owners calmly sitting there, listening to some music, and basking in the sun while planning their next adventure on the road.
A Camper Van That Was Completely Custom-Built
An adventurous couple from Texas decided to take the plunge into that camper van life and completely transformed this 1984 VW into their home on the wheels. They carefully designed it in a way that allowed for different spaces to be designated for different activities, such as eating, sleeping, and driving.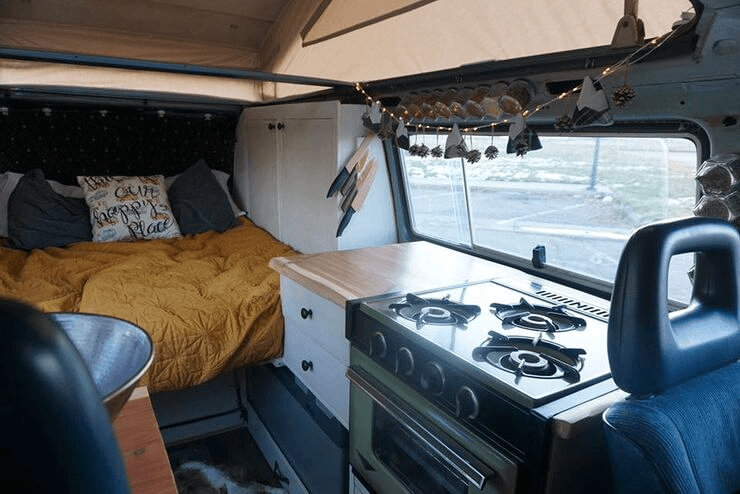 They creatively added small personal touches that cozied up the house, and evidently, their pups could not be happier.
A Drag Racing School Bus
Well, now we're talking! Sure, tiny homes and houses on wheels are awesome, but how about a remodeled school bus that literally breathes fire? In the USA, drag racing is incredibly popular, with more than 650,000 people attending National Hot Rod Association (NHRA) events every single year.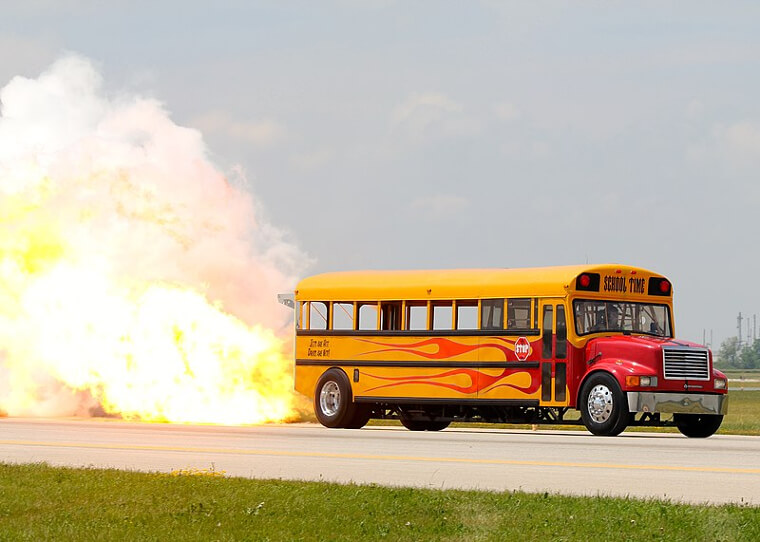 Clearly, when this modified school bus joined the races, everyone was more than up to cheering for the unique drag racing vehicle.
A Caboose That Became An Adorable Airbnb
Some of us wouldn't have to think twice to go for such a unique Airbnb! For only $88, travelers and guests can rent the Little Lost Caboose located in East Cook, Minnesota. The tiny house is located in the middle of a beautiful forest, offering stunning views of Lake Superior.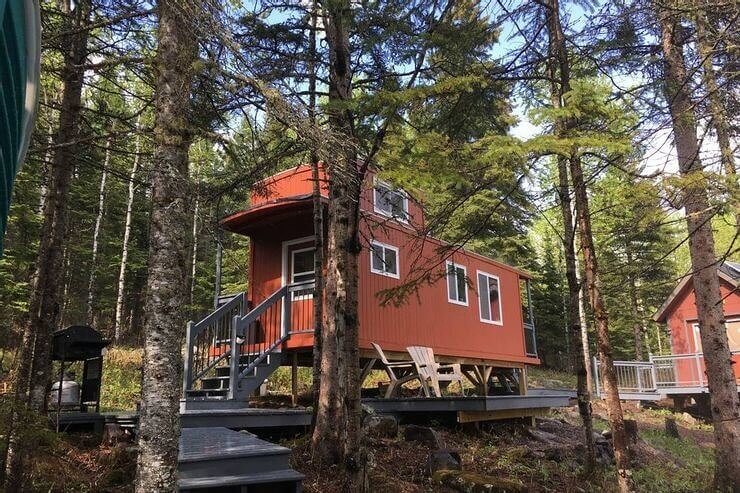 The tiny house is also incredibly comfortable, boasting a queen-size bed and a fold-out couch, having enough room to accommodate four people quite comfortably. If that doesn't sound like the perfect vacation, then we don't know what does.
Bad To The Bone On Wheels
Here goes another example of a former school bus that has been modified to the point that it's completely unrecognizable. The bus underwent an enormous suspension lift, four additional massive tires, and an overall look that makes it much more suitable for a monster truck rally.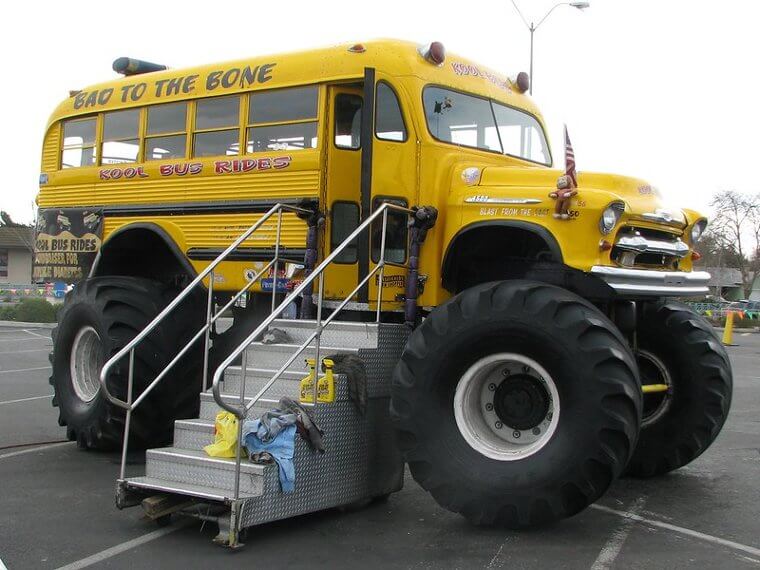 To be honest, we doubt that this vehicle hasn't already been banned from certain states, since it probably has to obey strict circulation rules due to its power and size.
​An RV That Was Remodeled Into A Tiny Home
Here goes another inviting guest house, this time located in Hay-on-Wye, Wales. About four to eight people can sleep in the converted bus, lovingly called the Majestic. The tiny home is fully equipped with a kitchen, solar panels that power the electrical sockets and the lights, and it even comes with its own tiny deck outside.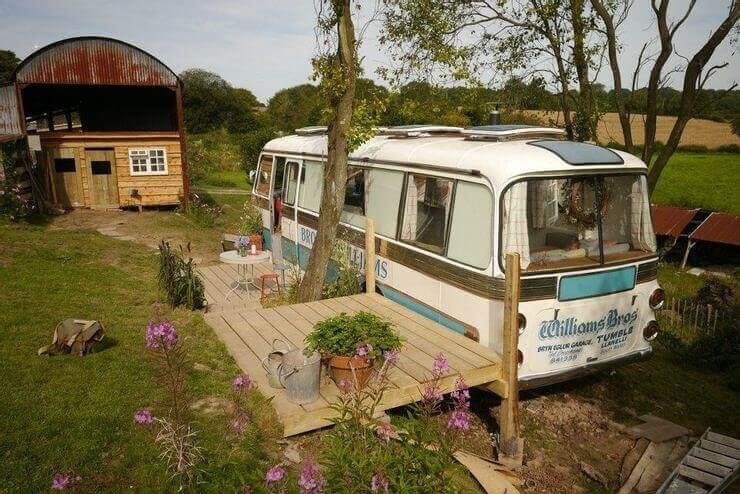 And while the Majestic is almost fully equipped, it doesn't have plumbing. But no need to worry, one can find tons of privacy on a private patch of land on the outside, and within its wonderful exterior wooden bathhouse.
A Turbo-Charged Yellow Bus
At first glance, it might look like we're observing a bus from a Mad Max movie or something. The combination of a shabby paint job with loudspeakers on the roof and of course, the lights spread all over make this an incredibly interesting bus modification.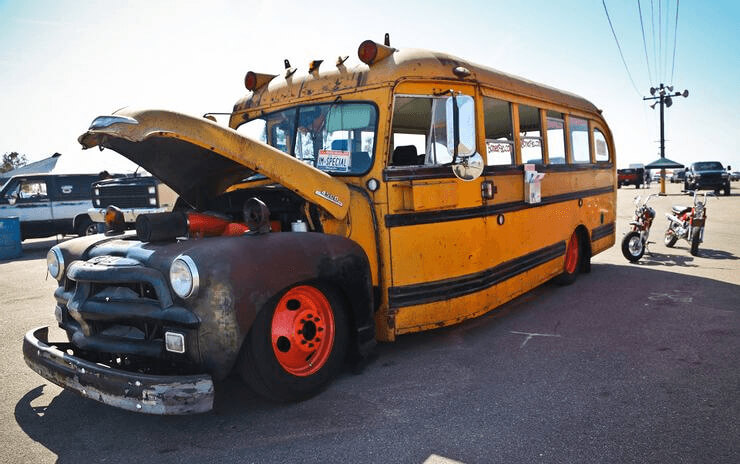 Originally, this Chevrolet was built back in 1954, but with the refurbished job, it now holds an engine from the 21st century with a hefty BorgWarner turbocharger.
​An Old School Bus Converted Into A Campervan
Since outdoor vacations have seen an increase in popularity in the past couple of years, it's not surprising anymore that someone would take a cute bus and transform it into their new home. This modern campervan enjoys a spacious interior with a wooden finish, a canvas awning and an overall luxury feel to the entire home.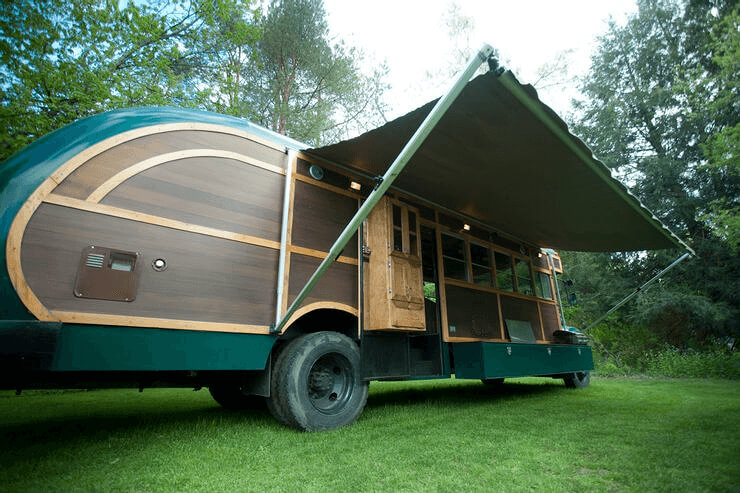 Since so many school buses are taken out of circulation every year, seeing a repurposed bus such as this one certainly should inspire us to repurpose more.
​A School Bus From The Future
Well, not all cool school buses have necessarily been a part of a transformation process from an older version. Some of them, like this one, fell into the current trend of coming up with self-driving cars, with a few companies trying their luck with the concept of self-driving buses.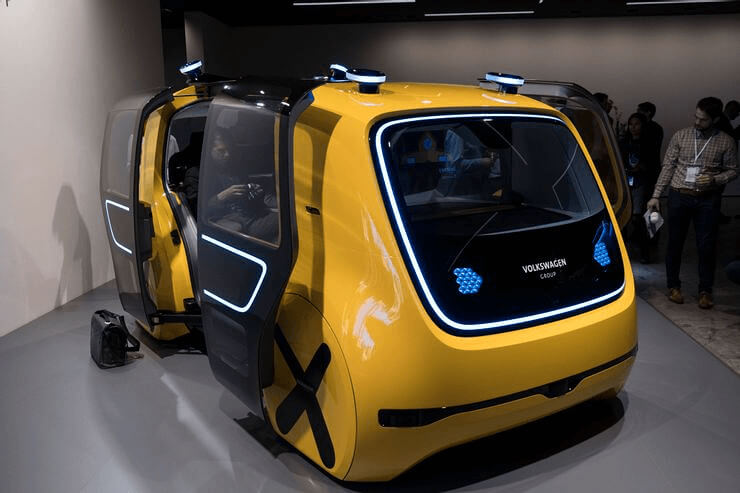 This SEDRIC Volkswagen model is just a great example of one of these developments after it was created with a very futuristic and cool look. Unfortunately, though, there is a long way to go until self-driving buses for kiddies will ever be approved.
​A Fancy Unicorn Mustang
Clearly, someone really loves unicorns, to the point that they transformed their Mustang into a four-wheel imaginary horse. While they could have simply added a few drawings of a unicorn here and there, they were ready to go all the way and give it real exterior wings, while painting it with the colors of a unicorn.
Oh, and let's not forget the huge signature horn on the hood. All we can say is that every once in a while, no matter how much we love magical creatures, perhaps refraining from giving car wings and a horn would be best.
A Quaint And Quirky School Bus
While a big yellow school bus may not automatically be a synonym for "quaint," there is no doubt this transformed school bus really brings a different perspective to things. We don't even need to see the inside of this tiny home to know that it's probably stunning.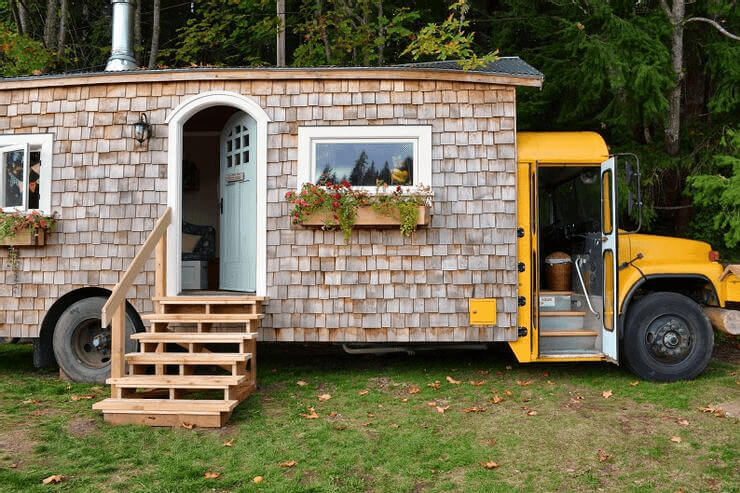 In order to add a bit of a cottage feel to the repurposed vehicle, the owners added some shingles into the sides and also put a few planter boxes. Stairs lead up to a beautiful door that opens up the bus turned into the home to the guests.
​An Abandoned Undercover Lamborghini
If one has a bit of imagination, it's clearly not that difficult to own a Lamborghini. This person chose to transform their pickup truck into a completely different car, adding little details that made the baby yellow truck resemble the expensive and fancy car. From the looks of it though, it may seem like he ruined the car for good after transforming it into this special creature.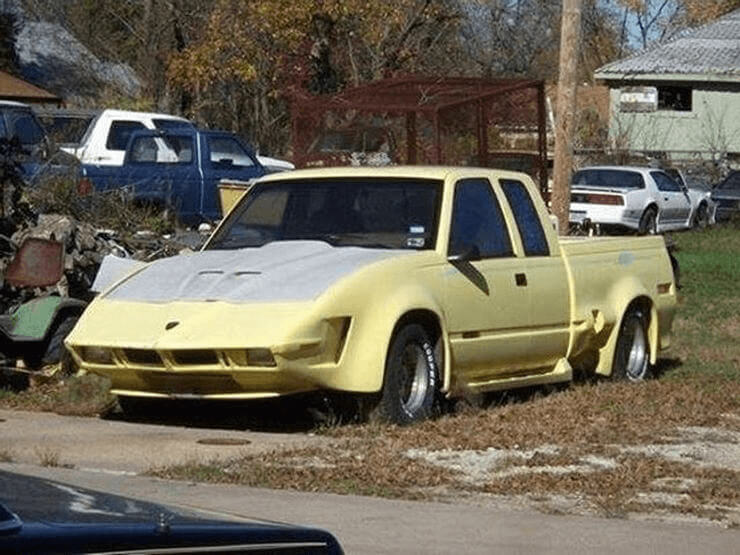 While the unique transformation shows just how much we can transform something if we put our minds to it, the fact that the car now seems to be abandoned leads us to think that the job ended up being a failed one.
​A Batmobile In Blue Color
Movies undeniably have a huge influence on pop culture, and sometimes, in the way people live their lives. Some, like this person, would really like to drive a car that resembles their favorite movie, so they take action and create that reality for themselves. This person modified their car into a sort of Transformers or Batmobile style of a ride, but weirdly, they decided on a very unusual color for it.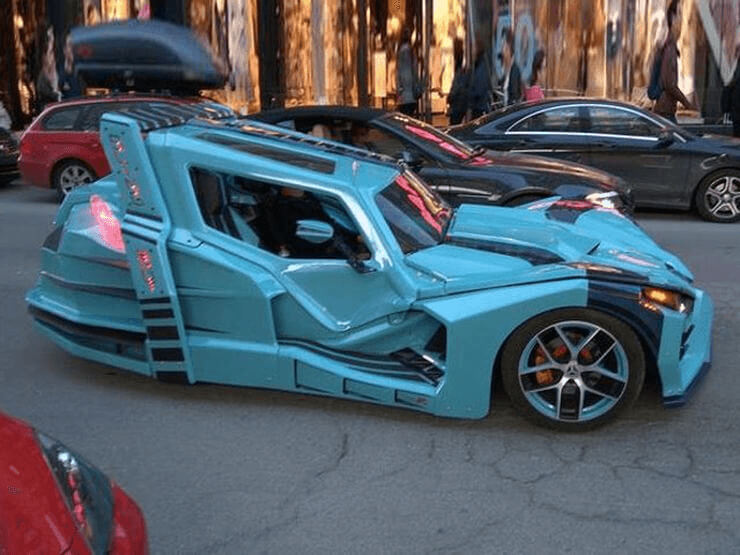 While unusual colors sometimes work and bring a uniqueness to it, this one ended up becoming a strange-looking Back From the Future vehicle. There is no way that they'll manage to drive the beauty without catching the attention of a few law enforcement officials out there.
A Refurbished Bus That Is Good As New
This Ford Short Bus from 1951 undergone a radical transformation that has resulted in it being as good as new. While this particular school bus is a bit smaller than the average one, and the design was much more common back in the days, the bus is still in use in some remote locations in the US.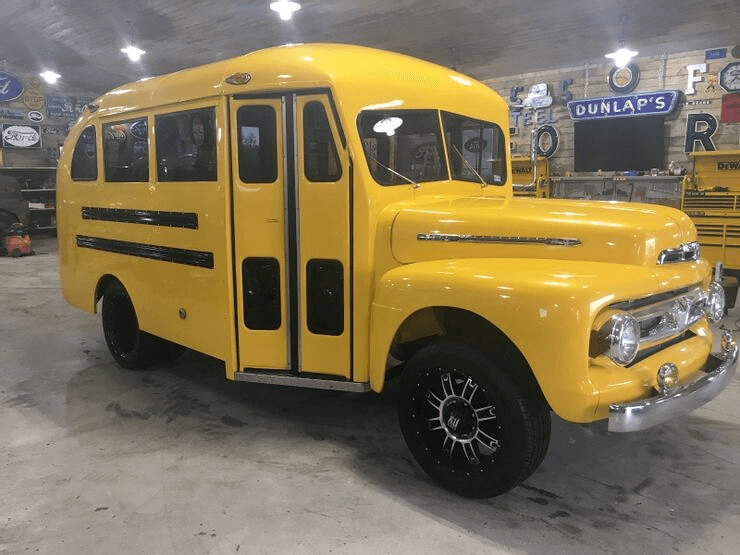 The vehicle's refurbishment saw a new coat of paint and a completely new steering wheel, brand new custom rims, and of course, some beautiful reupholstered seats to keep everyone as comfortable as possible.
​A Toyota Prius That Became This Guy's Home
Here, we have a more modest, but still incredibly beautiful, tiny homemade out of a refurbished vehicle. An Australian landscaper called James Lawler really shows us that if we dream of having a tiny house on wheels, then any type of car can make that happen.
Lawler transformed his Toyota Prius into a motorhome by adding a tiny house onto the back of the car, where the hatchback is located. What's even better? He only used $113 worth of recycled materials to create the wonderful home.
A Unique Smart Version Of A Rolls-Royce
A Smart car is a practical tiny car for owners who live in crowded cities with too many cars, and usually very little parking. Owning one of these tiny beauties can definitely be useful and much less stressful, especially when a long ride to and from work is a part of a person's routine.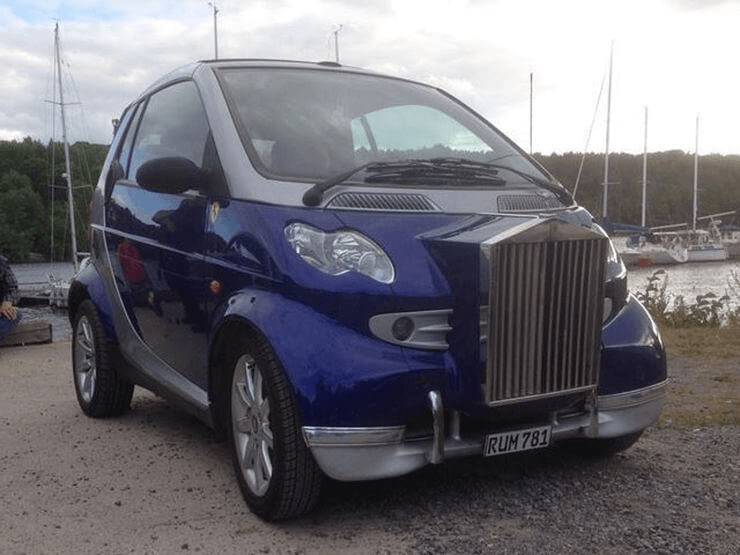 But this Smart owner decided to transform their Mercedes-Benz Smart car into a Rolls-Royce by adding a front grille that only one of the most expensive cars in the world holds.
A Unique Death Race Machine
Now here is a car that, whether we'd like to or not, we will never be able to forget. The movie Death Race certainly caught the attention of many fans worldwide, and this car could easily fit into the concept of the film. The combination of colors in different body parts of the vehicle, plus the huge bulbar that replaced the front bumper, and of course, the lights on the roof that are in place of the headlights really created a unique "Death Race Machine."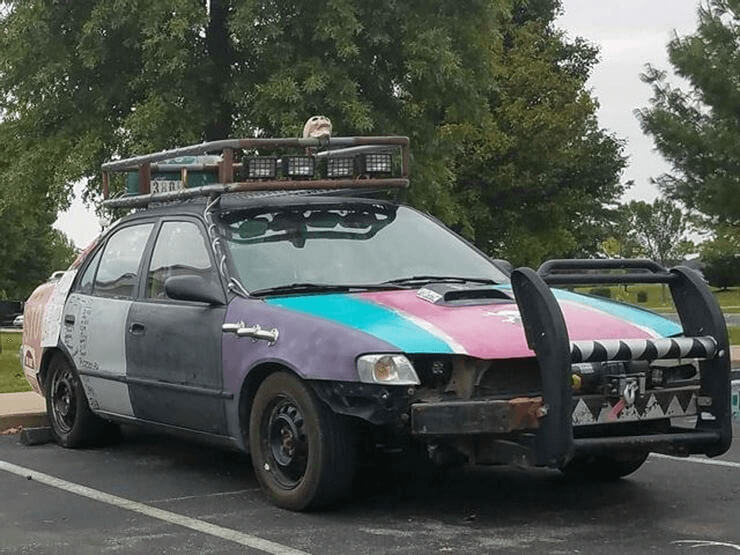 Of course, the skull, the metal frame, and the three metal things added to the front part of the fender surely create a very strange appearance.
A Small Palace Built On An Airplane
Just by taking one glance at this photo, who would believe that we're looking at the inside of a plane? Yet, it is! This airplane was transformed into a special home with tons of details that create a very rustic vibe to the place.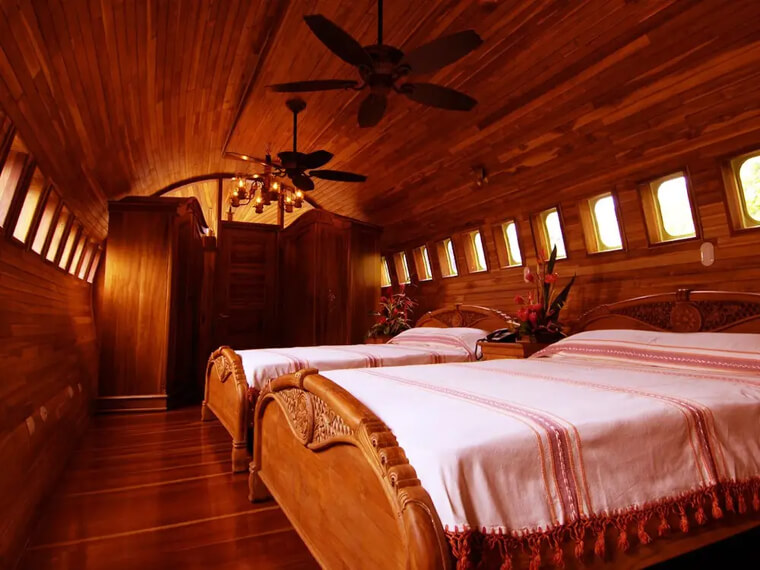 The entire home is lined with Costa Rican teak paneling, it boasts two bedrooms, and the front part of the vehicle has a breathtaking view of the ocean. No doubt that this makes remodeling an old abandoned plane worth it.
The "School Of Hard Knocks" Vehicle Transformation
This stunning vehicle is a refurbished, modified, and completely renovated school bus that dates all the way back to the 1940s. After one look though, it's clear that the vehicle has become a 21st century "School of Hard Knocks" cool bus. The 1941 Chevrolet was completely transformed from being just another transport rowdy for kids to a unique vehicle.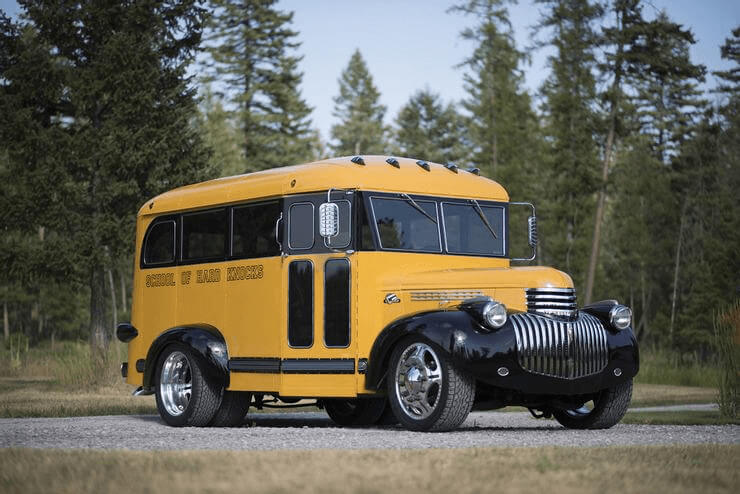 And the changes didn't just happen outside. The engine was replaced from its old-school one into a Cummins engine - the modern engines that are used in current buses today.
A Comfy And Dreamy Home On Wheels
In this dreamy and comfy house lives a family of three, in a beautiful piece of land located in Key Peninsula, Washington. This comfy home is proof that if you've ever had any doubts that living in a tiny house on wheels could be luxurious and cozy, then this bus should definitely toss those doubts aside.
The combination of white paint, the colorful pillows and blankets, and the overall decoration of the tiny home really bring a homey feel to it and help soften up the already cozy place.
​A Unique Paint-Job To An Old School Bus
Here's the thing, when a school bus reaches the end of the road, throwing them away to a dump might not be the greatest idea. And sometimes, instead of restoring it to its former glory, adding some spice and creativity could be the best solution to preserve and repurpose it.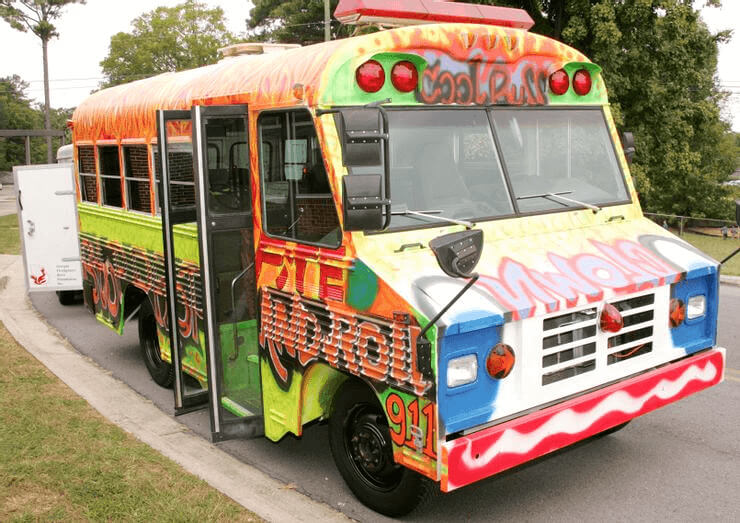 This old school bus underwent such a huge transformation that it became completely different from its original form. The modern and fresh circus-themed paint job adds a unique bit of color that really makes the bus stand apart from others.
One Bus On Top Of Another
One thing is to have a cool refurbished bus, and another thing is to have a unique upside-down bus on top of another bus to add some zest to it.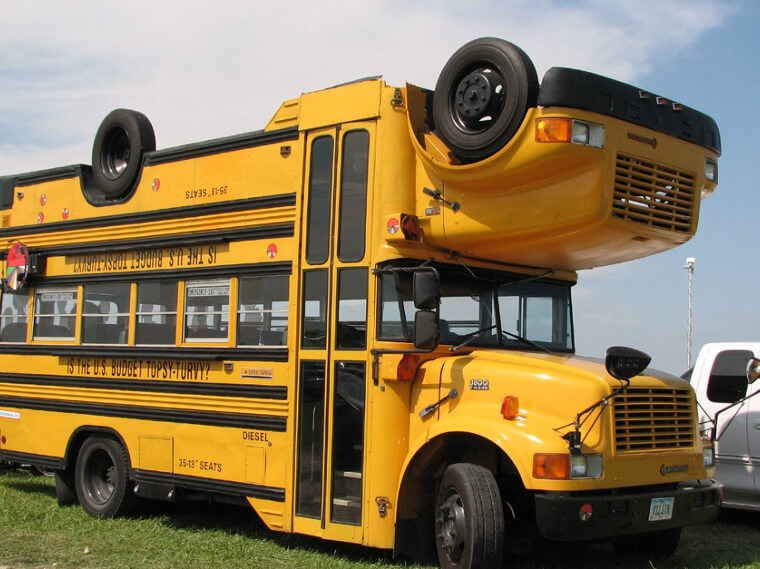 The mechanics of this creation have basically fused two chassis' together, one carefully placed on top of the other, while leaving the bottom one functioning as usual. The bus is known officially as the Topsy Turvy Bus and was created by Ben Cohen from Ben and Jerry's.
A Luxury Tiny Home Inside A Cool School Bus
While school buses may bring up some very painful memories for some people, this one will certainly change the whole game for most. The bus was completely remodeled, painted white, and has some added modern accessories that really make it a real home. It's easy to notice the solar panels that power the entire house, and it's as if this bus was never populated with lined seats on the inside.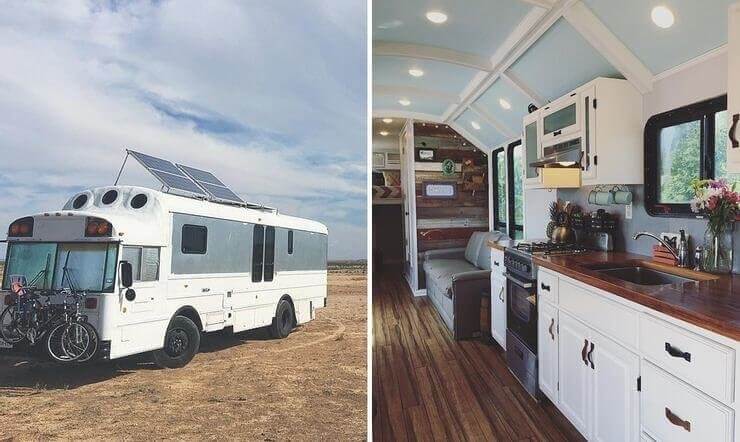 The warm and comfortable tiny house can move to wherever the family who lives in it wants to go, and once parked, they can all just grab their bicycles and explore the area.
An Ice-Cream Van Out Of An Old School Bus
By now, we have probably realized that old school buses don't only make for a wonderfully repurposed tiny holiday home. Some people take the opportunity to pick up incredibly cheap old buses in order to make a business out of them.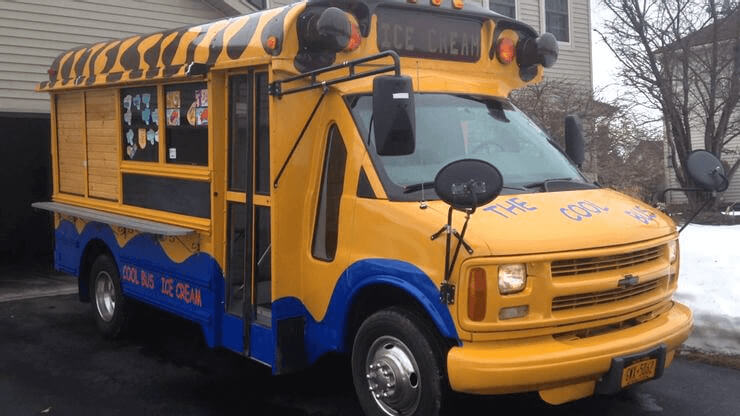 In this case, someone decided to remodel the entire bus, add a small area to receive and deliver orders, and start out a new ice cream business.
​An Airplane Transformed Into This Man's Home
Now, we've mentioned RVs and school buses, but how about a whole plane? A man named Bruce Campbell from Portland (Oregon) has been living half of each year in this airplane, transformed into a home, since 1999. He spent more than $200,000 to completely transform the Boeing 727 jet into a cozy and comfortable home.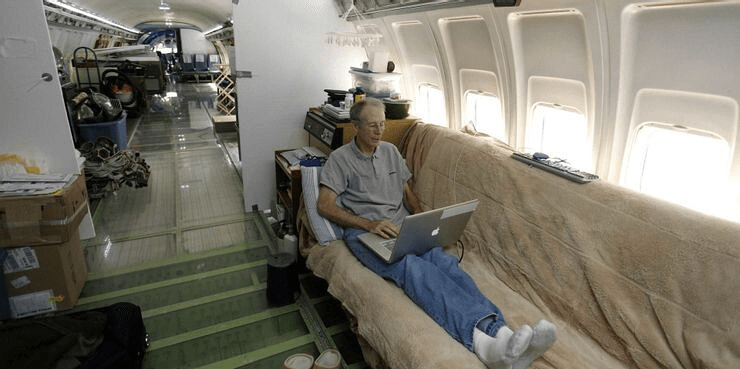 The plane has everything! There is a futon to sleep on, a sink, and even a washing machine, so it's safe to say that he has created a very well-furnished place for himself.
​The Fast And Furious School Bus
While some buyers of old school buses try their best to restore them into their old glories, others do their best to transform them into something unique from the 21st century.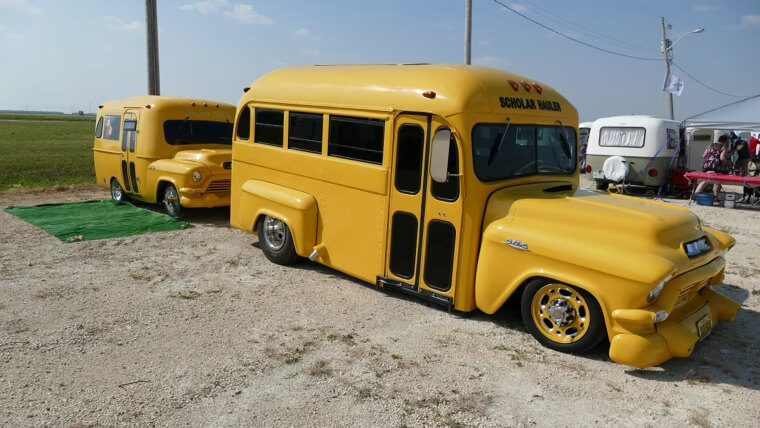 This GMC school bus owner decided to restore the 1957 vehicle with some rally tires and a lower suspension that gave it a modern feel. With this beautiful bodywork, the vehicle looks like something out of a Fast and Furious school bus.
Very Close To An Original Ferrari
So many people dream of owning a Ferrari once in a lifetime or at least of getting to drive them once or twice in life. But let's be honest, while that is an attainable dream, it may take a while for most of us to even get close to it.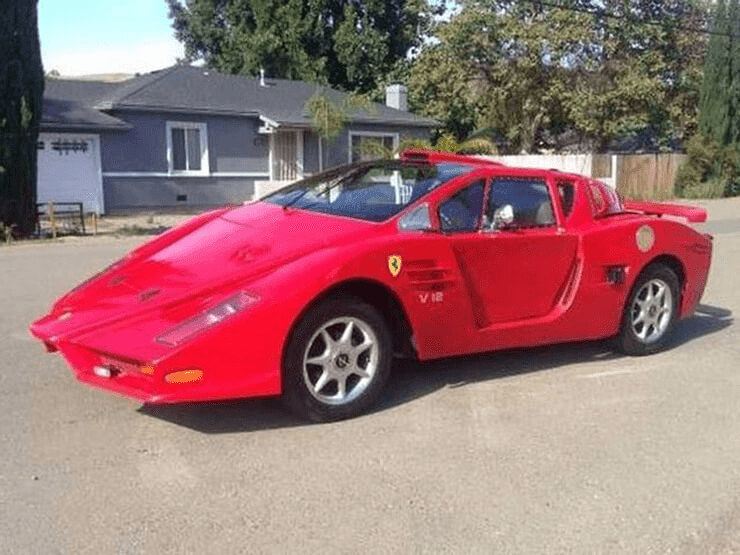 So the owner of this car wasn't willing to wait any longer, and instead of attempting to get an actual Ferrari, they just transformed their car into a copied version of an original Ferrari. By the looks of it, they could have definitely done a better job at it, but hey, at least they tried!
The Aloha Bus-Hotel Located in Hawaii
Well, if a school bus can be transformed into a tiny house, an ice cream truck, or a campervan, then why not a tiny hotel? That is exactly what happened to this wonderful old-school bus in Hawaii when a group of enthusiasts made it a part of the sustainable community of the Big Island.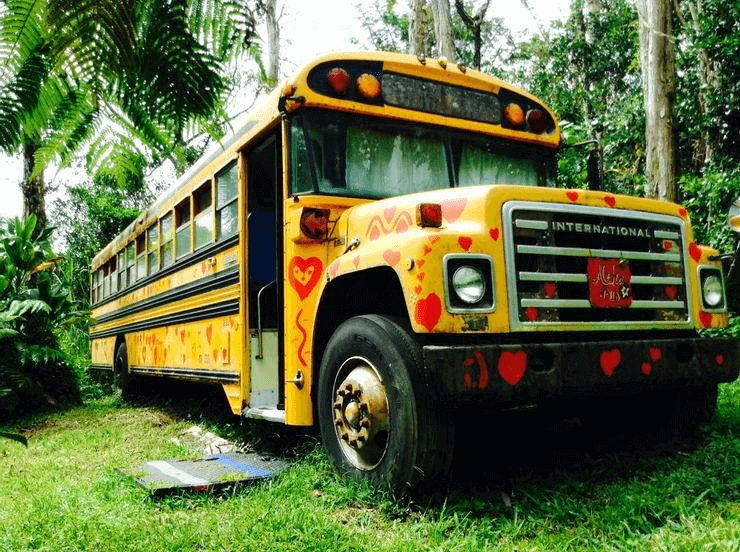 Guests are welcome to stay in the cozy hut that is populated with tons of reclaimed wood and an undeniable comfort for anyone who wishes to take some time off.
A Wooden Home On Wheels
Some people certainly take things a step further when it comes to refurbishing a school bus, and these people were definitely some of them. They created a new permanent home for themselves after making use of some repurposed wood and adding a new layer to the bus that created an upper floor.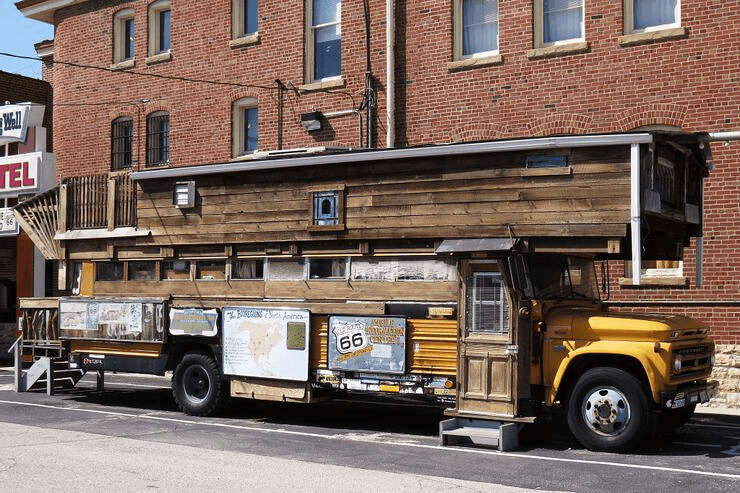 While it may not be everyone's taste, it certainly stands apart from any other bus or home on the wheels in the area.
​The Apocalypse Car
The owner of this car really used his/her imagination to create a sort of apocalypse car. They've got everything in the tiny car, and we can barely begin pinpointing specific details since they are so hard to notice. The owners thought of everything, including the extra snorkel attached to the side of the car, probably with the intent of going through water with it.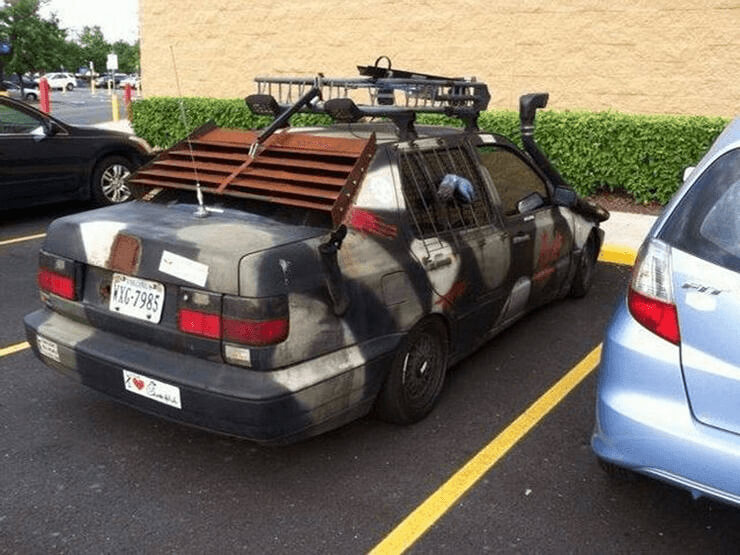 The paint situation also suggests that they are planning to camouflage whenever the circumstances require it, and rear windows that are protected by gratings, except the driver's windows, which is kind of ironic.
A Jazzy Paint Job For A Refurbished School Bus
Thankfully, some people repurpose school buses before they are left behind in some sort of school bus graveyard, and they end up creating art pieces such as this one. The school bus ended up becoming a canvas for several graffiti artists who didn't hold back when they had the opportunity to put those creative juices flowing.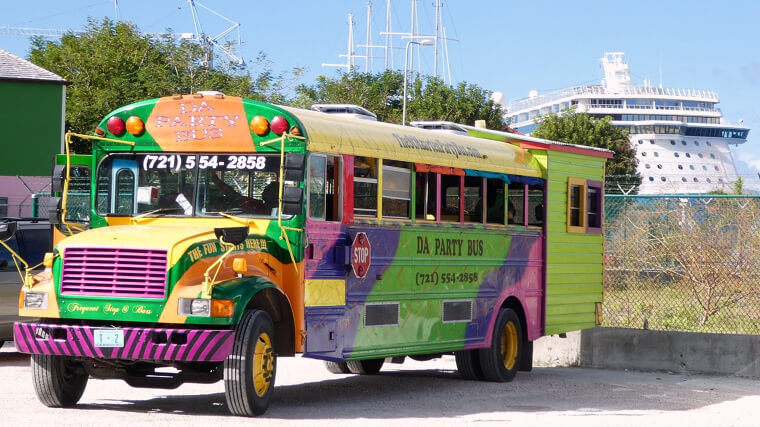 The jazzy paint job allows us to barely notice any signs of aging, and we're glad to see the bus has found a new purpose.
A Psychedelic Paint Job For The Streets Of Panama
Some of us have no idea that a large number of old school buses end up in South and Central America, where they are often given a new lease of life.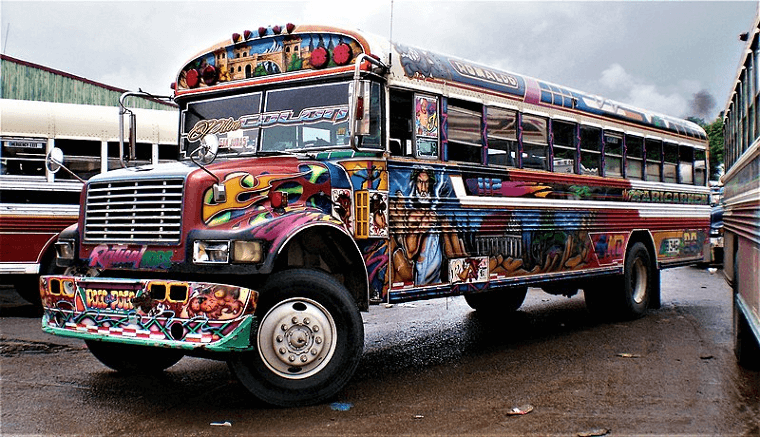 Most often, they end up serving to run up regular bus services for the local population, but sometimes, a few retired buses go through some interesting transformations. This one, for instance, got a unique psychedelic and kind of scary paint job, translating its adventurous look to the streets of Panama.
Select "School Buses" For A Smaller Number Of Children
School buses have almost always come with the concept of being designed to carry as many students as possible. But there was a time that certain cities and governments would rather have regular cars used as "buses."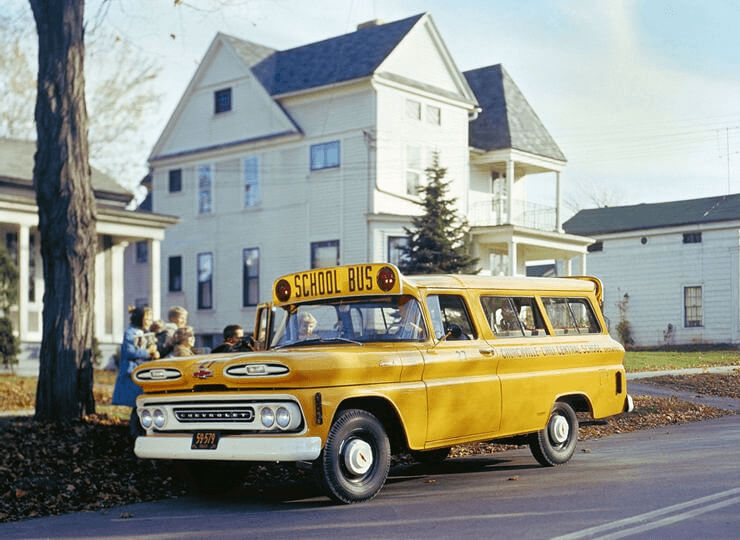 They would simply paint them with the eye-catching and signature bright yellow that characterizes this type of bus and would transport a smaller number of pupils who lived in rural areas. By the cool looks of it, we have to say that converting the stunning 1950s Chevy was definitely a win.
​The Campervan Style
Throughout history, there were many alternatives to regular school buses. Some really lucky children actually got to go back and forth from school in this gorgeous VW Campervan, painted in a stylish black and yellow style.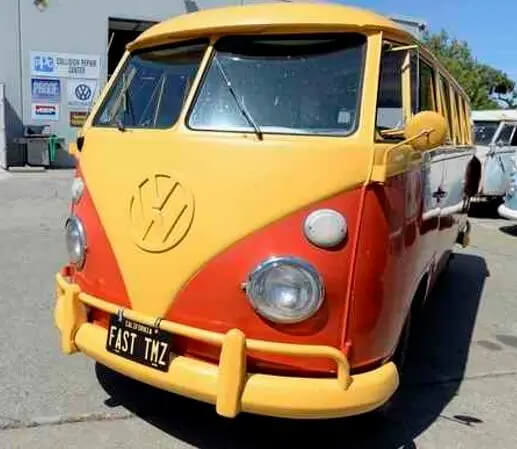 The Campervan school bus actually made for a very practical mode of transport, especially when it had to pick up children from the most rural areas in the country, where a regular bus would be practically empty.
​The Expedition Happiness Bus
Some might already be familiar with this bus and with the two pioneers who remodeled it and decided to go on an adventure that inspired many dreamers worldwide. In fact, their journey was documented by them and even made it to Netflix under the name of the documentary Expedition Happiness, following their journey (with their dog) across North America in the refurbished bus.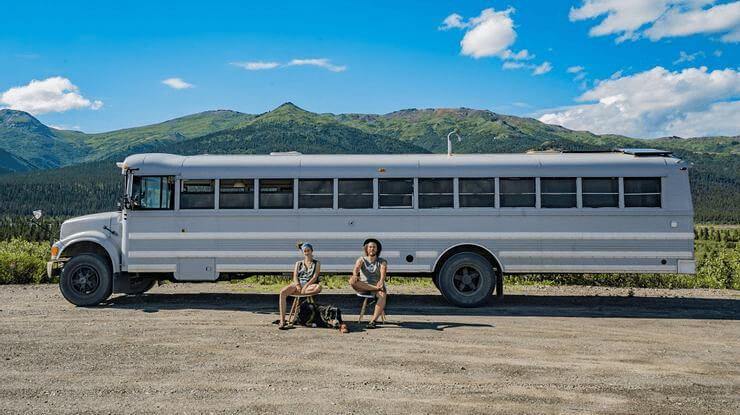 The two German free spirits managed to create a pretty spacious home on the wheels for their trip and certainly stood out from others in the towns they visited.
The Touring Busses In Curacao
It's safe to say that several buses are used for touring around cities for people to see all the sights. In Curacao, these colorful tour busses are used to transport tourists to all the beautiful places the cities have to offer.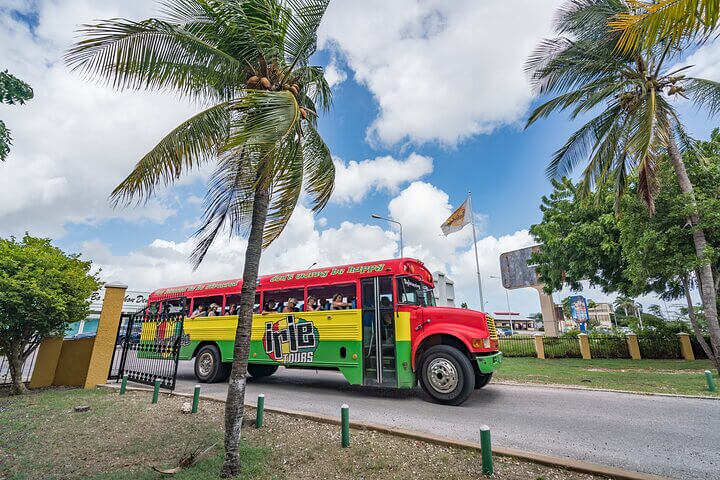 The colorful bus provides a cool and cheap mode of transport for both locals and visitors. Each bus has a different pattern, and they make sightseeing much more vibrant.
A Smart And Tiny Bus
While most school buses are undeniably pretty sizable, there are clearly some creative "buses" with a much smaller size. Converting a Smart car into a school bus is probably not the most obvious transformation, but we can somehow see it working. I mean, just look at how adorable this bus looks!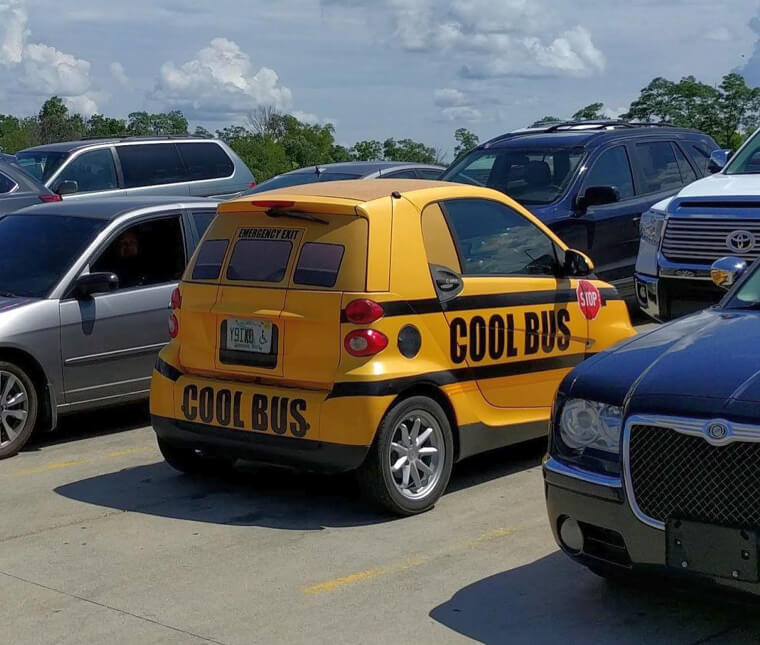 The biggest difference between this one and the other buses is that the Smart car is probably only suitable to transport one or two children at a time.
Three Brands In One Car
Unfortunately, not everyone who decides to go on a refurbishing vehicle adventure manages to do an inspiring job. Take this car for example: we can't even pinpoint whether we're looking at a Dodge, a GMC, or a Chevrolet, though that was probably the point.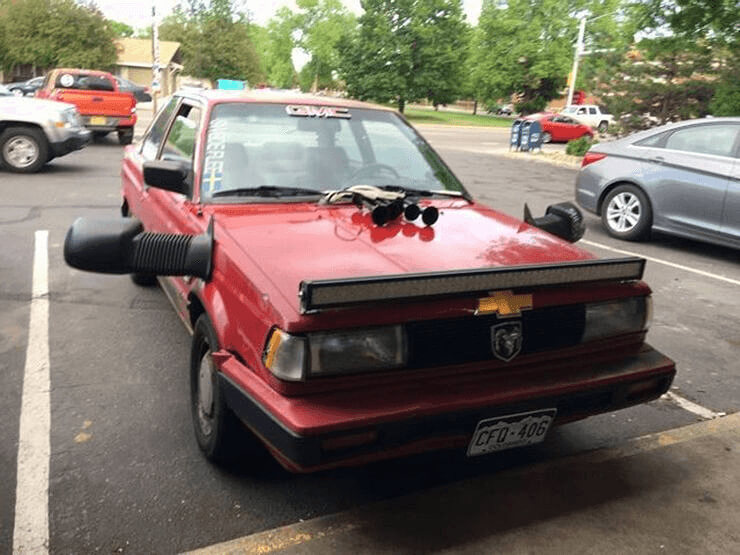 The vehicle had two mirrors from a bus added to it, a few bicycle horns, a LED light bar, and three logos from three different types of cars.
​A Mazda Mi With An Enormous Rear Wing
Here we have an interesting addition to a Mazda MX-5. The owner of the special car decided to add a rear wing to differentiate his/her from others on the road, especially from other MX-5s.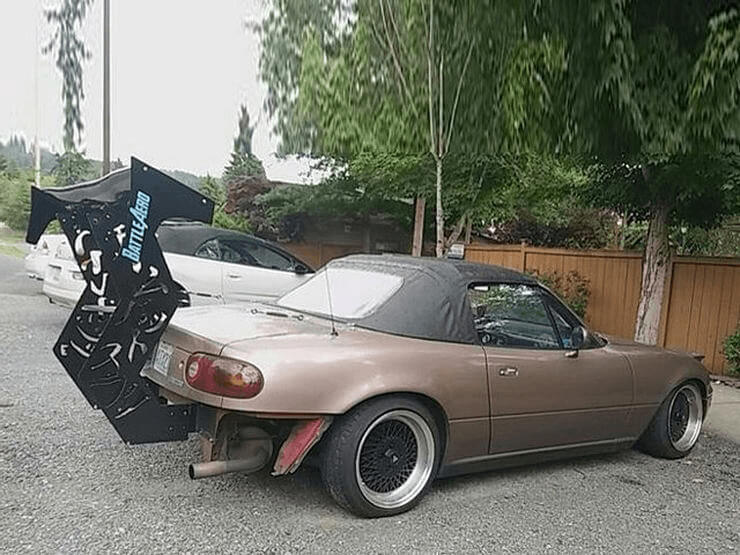 Initially, the rear bumper was standing in the way, so the owner needed to take it off so that everything could properly fit. He then creatively named the car "Battle Aero".
​A Completely Transformed Toyota 86 GTS
This Toyota 86 GTS transformed into a sports car and by being painted in blue and black colors, and having a brutal rear wing added to the back of the car. While we're trying our best to be open-minded about this one, the wing pretty much seems to be pulling the car back more than it provides any aerodynamic help.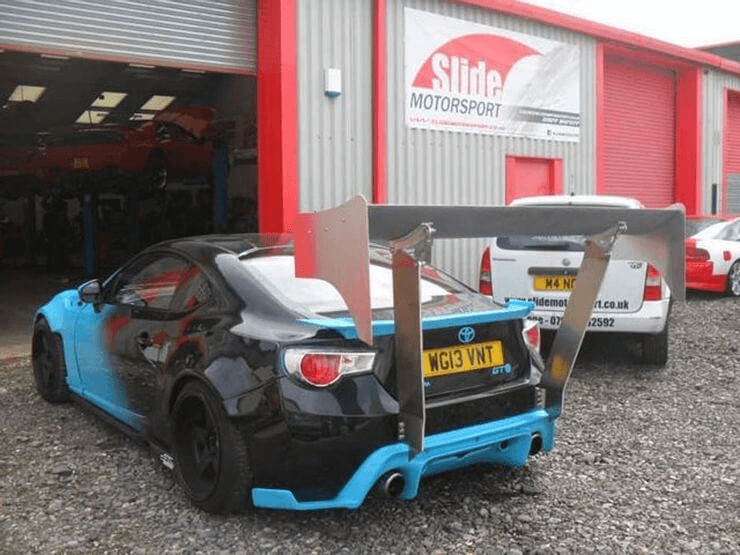 The 2012 ride would probably look stunning with a little bit less work put into it.