If you currently have a car or have had one in the past, you will know how hard it is to keep it clean and tidy. It is even more difficult when you have children on board because there are so many things you need to remember to bring to keep them clean, fed, and entertained. Whether you are taking a road trip or just running errands, these tricks will make car trips so much easier. Be warned; once you read these organization tips, you are going to want to run to your car and start cleaning.
Clear Travel Pouches Are A Must
One of the critical mistakes most of us make when organizing stuff for a road trip is putting little things in one bag. Instead, there is a much better option for you.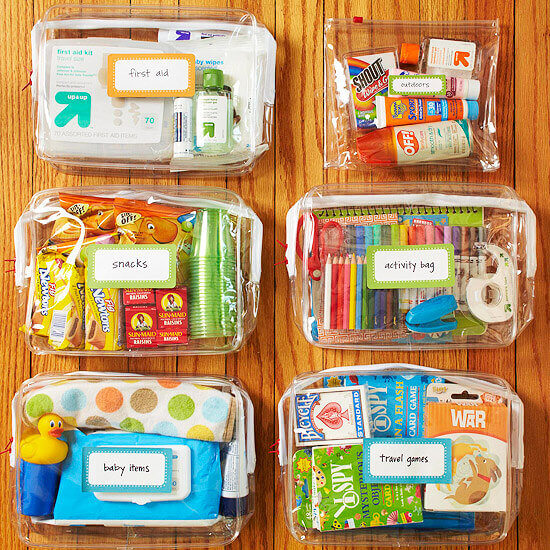 You can buy small zipper bags for little things such as snacks and a first-aid kit and add labels to find this quickly. If you like an organized and clean car, you should definitely consider this hack.
Use A Car Trash Can For A Mess-Free Car
Whenever you are traveling with children, the backseats can quickly turn into a trash bin. When the journey ends, you have to clean the car no matter how tired you are, which can sometimes be frustrating.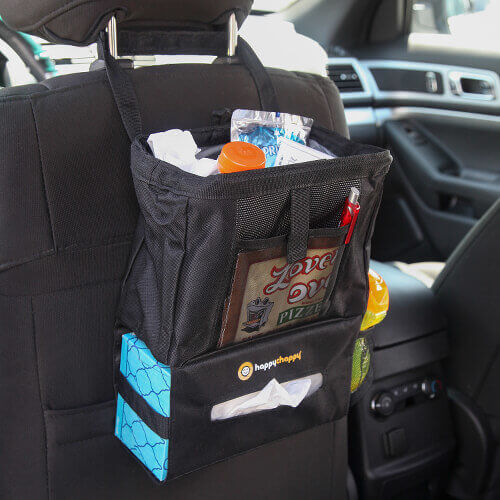 The best way to keep your car tidy and clean is to get a car trash bin that is cheap and effective. Trust us on this one, as you won't have to deal with scattered trash in your car anymore.
Keep Your Kids Entertained For Hours
If you want to turn the car into a personal cinema for your kids, try this handy back-of-seat iPad holder hack.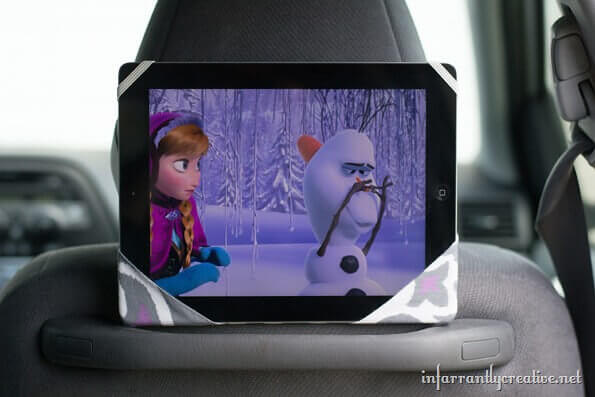 In our opinion, it's a parenting win. After all, this will ensure your kids remain distracted from making a huge mess in the car.
DIY Travel Book Storage
Creating a travel book storage for your kid is easy. It is a great way for the kids to learn and make less mess in the car.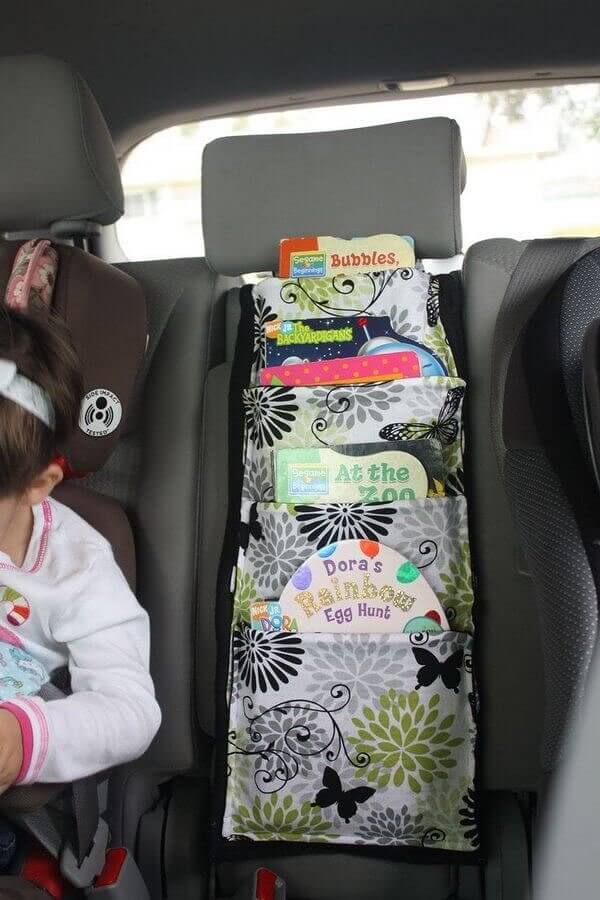 All you have to do is cut a few pieces of fabric, sew them together to create pockets, and hang it in the back seat. There are plenty of tutorials online.
Say Bye To Wrinkled Clothes
When you drive, do you hang your suit jacket or wear it? As car coat hooks sometimes suck big time if there are passengers in the back of your car, there's an effective way to prevent wrinkled shirts and suit jackets.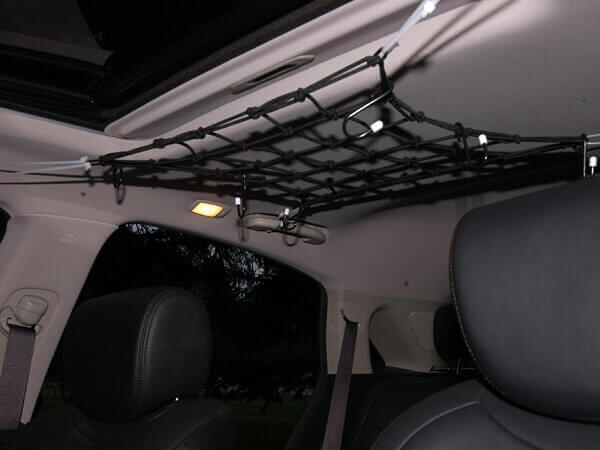 You can buy a mesh bungee online and attach it (as shown in the photo) to store hats, coats, and other stuff on top of the mesh.
Keep Things Chilled With A Mini Cooler
We believe that a road trip is incomplete without a cooler. If your summer vacation plans include hours in the car, you must have a car cooler.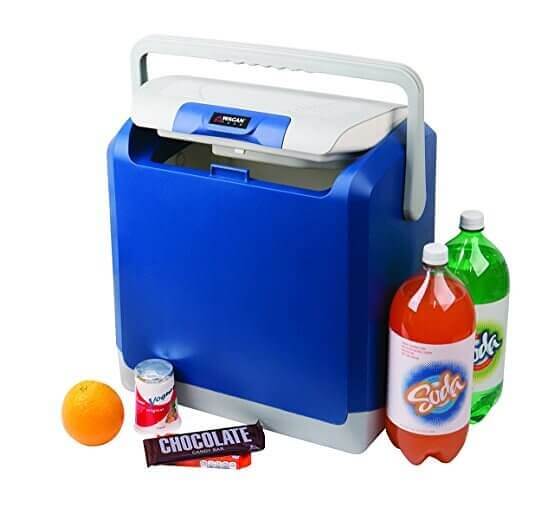 There are tons of affordable and quality car coolers out there on the market. This will help keep your drinks and snacks chilled no matter how long you are driving.
Whip Your Trunk Into Shape With This Organizer
Whether you are a professional or a parent, you have to spend a lot of time behind the wheel. And no matter how much you try to keep your car organized, it becomes almost impossible and irritating. Luckily, there's a simple solution to the problem.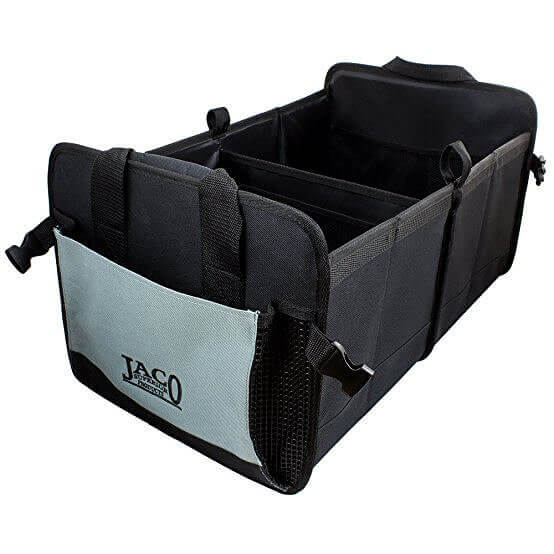 If the trunk of your car looks like a disaster most of the time, you should consider this hack. Simply buy a good-quality car trunk organizer that'll make all the organizing hassle go away.
Never Have Crushed Groceries Again
Have you ever come back from grocery shopping only to find cracked eggs or crushed bread? We have all been there. There is a pretty simple solution to the problem.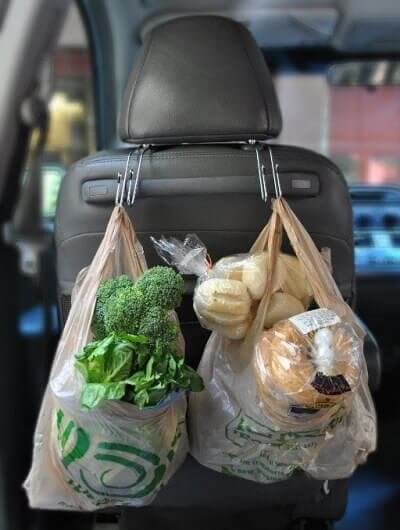 All you need is to follow the hack that requires either buying or making hooks to attach to the headrest. It will help avoid damages and free up floor space.
Avoid Messy Backseats With Shower Caddies
Many moms and dads have to deal with child-induced toy-filled vehicular chaos. If you have kids who absolutely love making a mess in the car, there is a simple solution for you.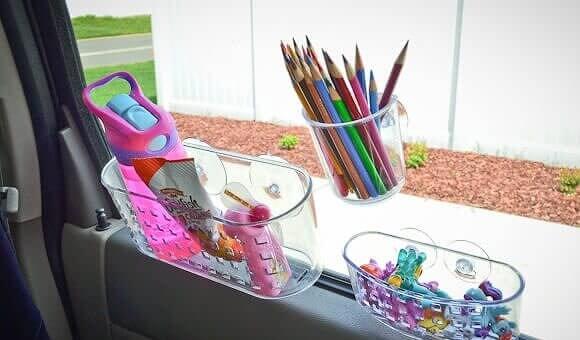 Use shower caddies that suction to the window to keep your kids' toys and essentials organized. However, it would be best if you were careful in the placement of this idea.
DIY Activity Book For Hours Of Fun
Simply take a binder with printable games and other fun stuff for your kids so that they can have a fun time on the road.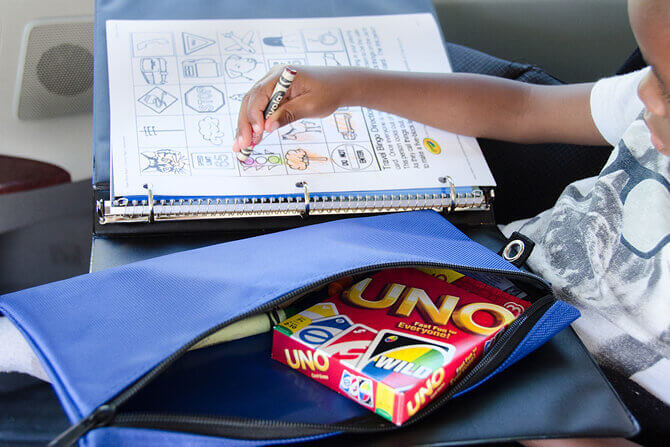 This is a pretty simple way to keep your kids entertained while traveling. You should definitely consider it for your next road trip.
Emergency Gas Funds And Loose Change Container
Take an empty gum container to keep loose change, emergency gas funds, and toll money. Traveling by car has taught us that it is essential to keep loose change in the vehicle.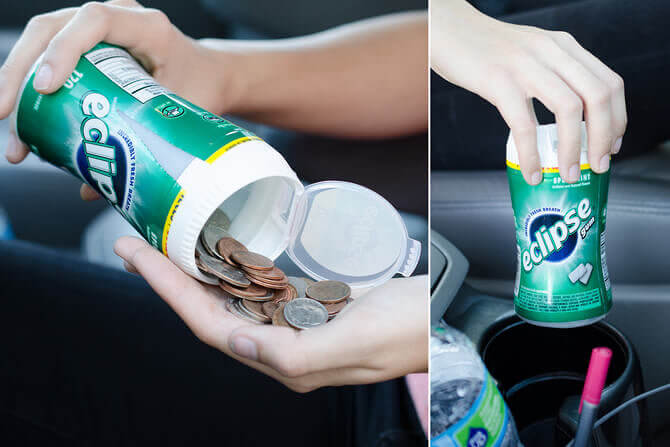 So this hack is a functional and practical way to organize loose change because most of the time, we cannot find it when we need it the most.
Prevent Hard Candy From Melting
Traveling by car is no fun without candies. But most of us don't like it when the hard candy melts. Some of you may like chocolate when it melts in the wrapper, but it creates a big sticky mess.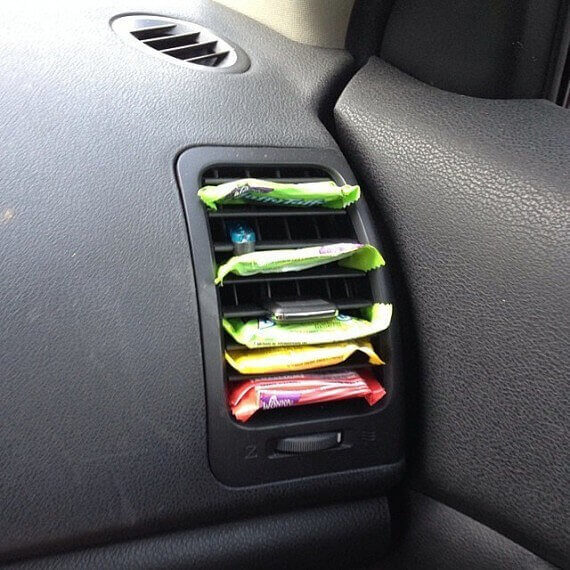 If you are road tripping, we suggest you try this hack to keep your precious candy from melting.
Organizing Crayons The Easy Way
Kids love crayons, and you buy them every year. What can you do when it comes to organizing markers and crayons? One of the easiest storage solutions is to take an empty wipe case and store them inside it.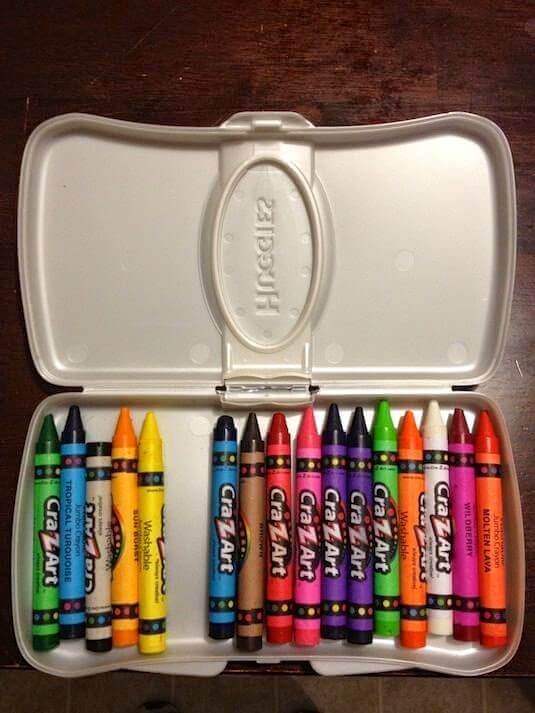 This way, your kids won't lose crayons easily, and you won't have to spend entire life savings on buying them. Ok, it might not be that much money lost, but this hack will definitely save you in the future.
Increase Your Cup Holder Capacity
No, you are not going to wash clothes while waiting for delicious baked muffins. With a laundry basket and a muffin tray, you can make a huge cup holder.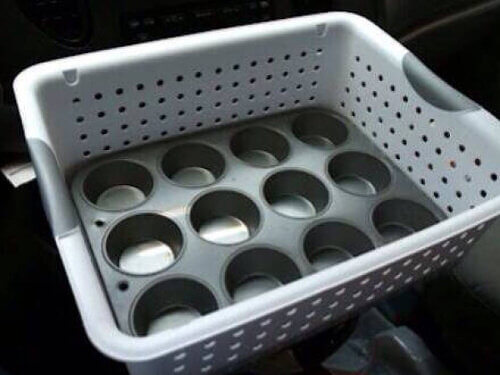 It is an incredible hack if you're traveling with lots of people. After all, most cars don't have enough cup holders.
The Many Uses Of Carabiners
You should know that keeping a car organized doesn't have to be time-consuming or difficult. Having carabiners in the car is always recommended as you can use them for different purposes.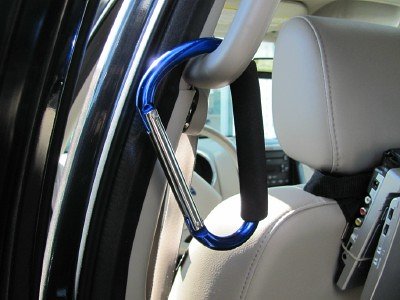 For instance, you can use one of these bad boys to hang sunglasses cases, an umbrella, shopping bags, and a lot of other stuff.
Avoid Cup Holder Gunk With Silicone Muffin Cups
Simply place silicone muffin cups at the bottom of each cup holder and save yourself from the frustration of cleaning the gunk out of them.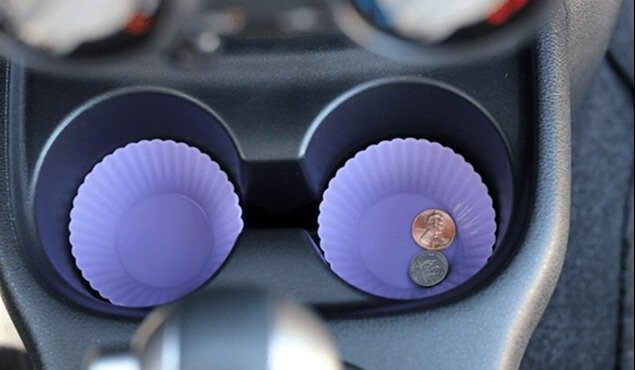 This car organization hack is simple because silicone muffin cups are easy to clean in the dishwasher or sink if they get dirty or sticky.
DIY Car Visor Organizer
One way to clean the clutter in your car is to make a DIY car visor organizer. It won't take too much effort to make it, and you'll get it at a fraction of the cost.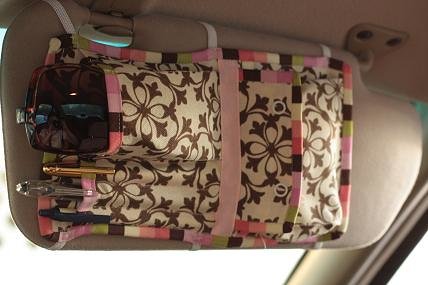 In case you want to give it a shot, you can read a step-by-step guide on the internet for you to create the exact design.
Plastic Grocery Bags Hack
Here's a brilliant yet simple hack of finding a used tissue box and stuffing it with grocery bags. Try this hack because you just never know when you'll need one.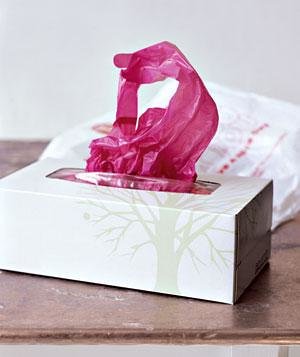 You can use grocery or plastic bags for wet clothes, trash, or recycling. This simple hack should be in your car organizer plan.
No Phone Holder In The Car? Use A Rubber Band
Without GPS, we would have needed to read maps while driving – just imagine how difficult and dangerous it would've been. While GPS is super helpful, we think phone holders don't get as much appreciation as they deserve.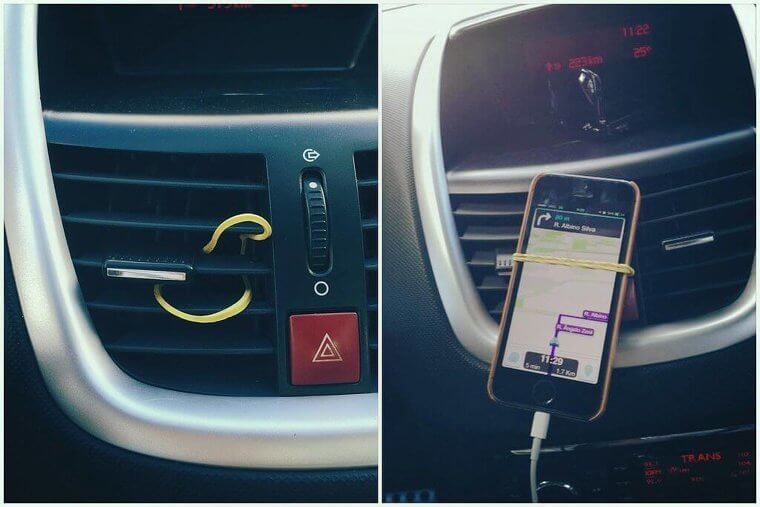 If you don't have a phone holder, there is a really cheap way to keep your phone in place while driving and using GPS. Simply use a rubber band, as shown in the pictures.
Travel Pouches Are The Best
Traveling with small ready-to-go pouches is extremely convenient. After all, small pouches enable you to have what's needed for a day and cuts the inconvenience in half.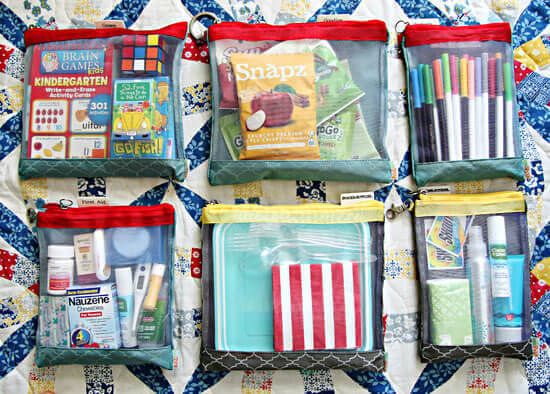 Traditional travel organizers are either too flimsy or too small. So take a basket and put travel pouches into it. Make sure to label the travel pouches too.
Protect Your Car Seat The Right Way
It's always fun to take your dog with you on adventures, but it is like they are on a mission to destroy the seats whenever they get in the car. The simple solution to protect your investment is to buy a seat cover.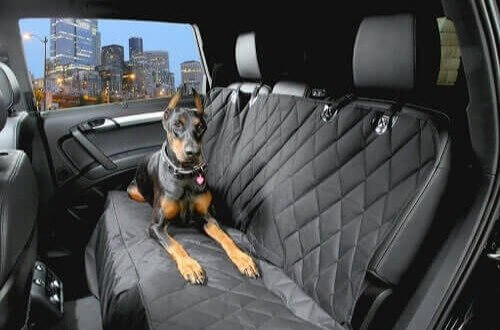 No Cup Holder? No Problem
Gaffer Tape is amazing because it is cloth-backed with an adhesive that tends not to leave residue even after exposure to heat (unlike duct tape). There's a time and a place for both, though Gaffers manage to have a bit more utility. So who knew it could be used for other purposes as well— something like a cup holder.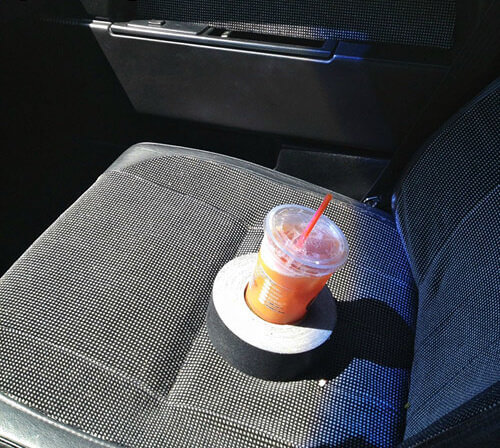 Well, you can use a roll of Gaffer Tape if there is no cup holder in your car. It will do the job just fine. However, don't take out the already existing cup holder in your car just to try this hack.
Use Cool Grip Strips
You can easily organize essentials with little grip strips. You can stick a tissue box, mobile phone, or other essentials on them.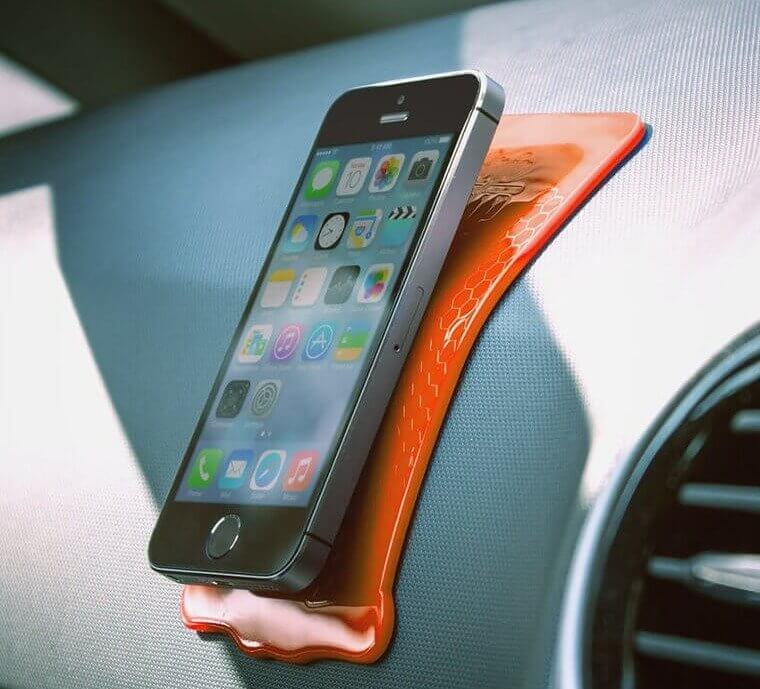 Make sure to buy good-quality grip strips as you don't want them to leave sticky marks behind.
Have A Visor Tissue Case
If you accidentally spill coffee or drink, tissues needs to be within arm's reach. And there is no better option than a visor tissue case.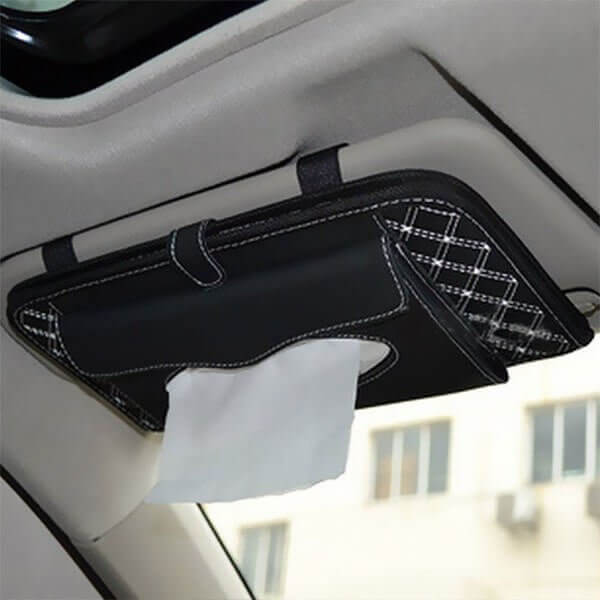 It is a compact and durable design case and difficult to deform. So consider it to make your car look tidier.
Trunk Closet
It would be best to think of your car trunk as a closet. This way, you can store all those extra necessities that you might need later.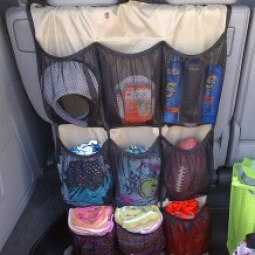 You can make portions in it and add stuff seasonally. It would be best to change the necessities in the trunk from time to time.
Make Your Glove Compartment More Useful
Most people just shove random stuff in their glove compartment. You can use tabbed, expandable folders to make the glove compartment organized. The folder can be used to keep all the essential car documents and receipts.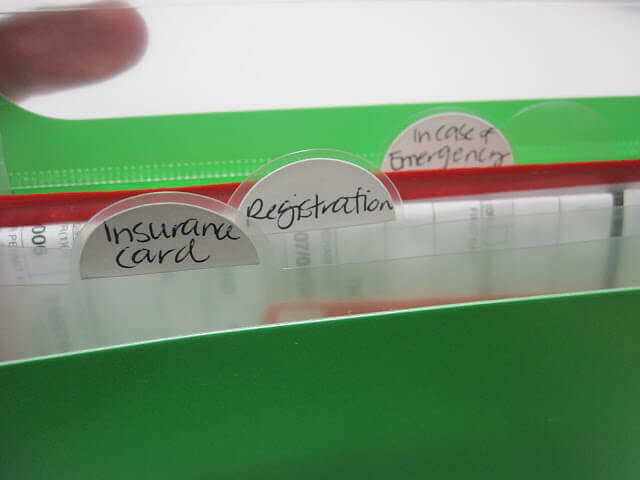 It is one of those simple hacks that can help save a lot of time and effort in an emergency.
Create Your Own Emergency Kit
When you are traveling by car, it is important to have an emergency kit in place just in case. There is a possibility when you might need it for yourself or someone else on the road. So, you should always have an emergency kit in the car.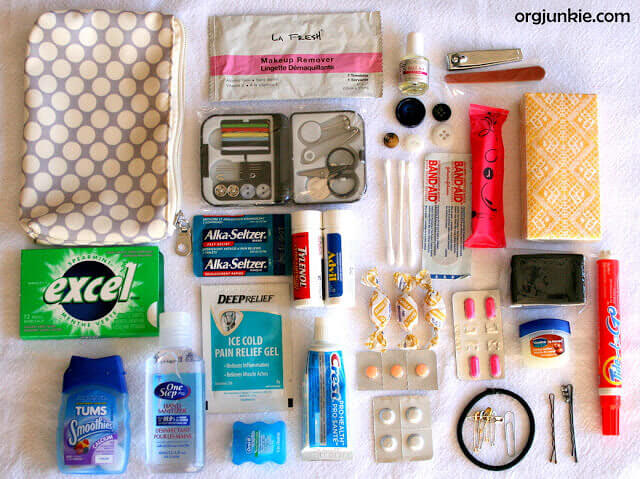 The emergency kit should contain pain relief medicine, Band-Aid, toothpaste, scissors, and a whole host of other useful stuff. Keep the kit in the glove compartment or the trunk.
Never Forget Your Errands Again
It is surprising how little we use the space in front of the steering wheel. You unintentionally look at it many times, so it will be almost impossible for you to forget the errand list or mail that needs to be mailed.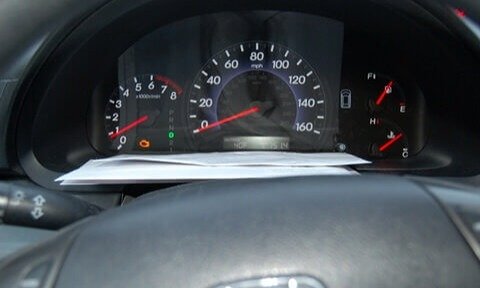 If you forget things quickly, then use the easy-to-see space in front of the steering wheel in the future.
Keep Necessary Items Within Arms' Reach
Some of us try to keep absolutely everything in the car, and the clutter keeps piling up. Here's another tip to keep your car organized.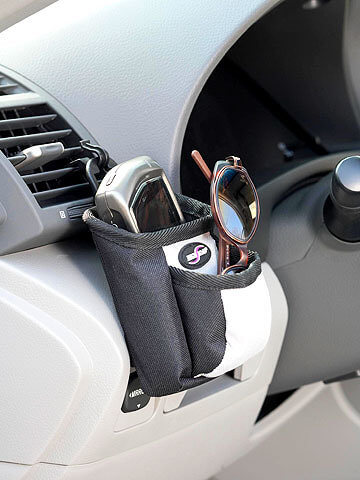 You can use this simple hack to keep your sunglasses, phone, and other necessaries within arms' reach.
Upcycle Pill Bottles
Instead of throwing away empty medicine bottles, it is best to upcycle them. You'll be doing yourself and the environment a favor.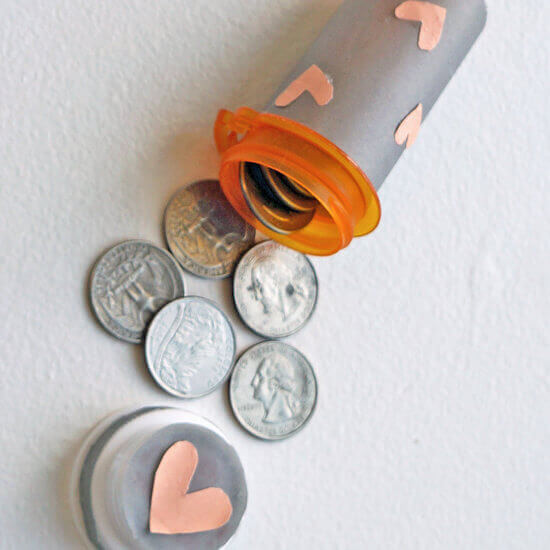 For instance, you can use an empty pill bottle to store quarters in them. Moreover, you can dress the bottle up, as shown in the photo.
Handbags Won't Go Flying Again
Has it ever happened that you suddenly applied the brakes, and your bag flew onto the floor? Well, there is a hack to prevent it from happening.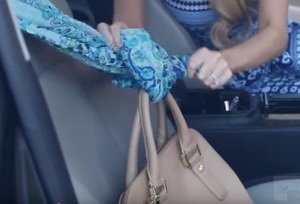 So a straightforward solution is just to use a scarf. All you have to do is wrap the scarf around the headrest, loop it through the purse's handles, and tie it in. It just takes a few seconds and works really well to secure your purse. Moreover, no one can grab the handbag and run off with it.
Make The Most Out Of Every Inch Of The Car
You may have tried different hacks for storage and car organization, but this one is pretty cool. Use the side of the passenger seat for additional storage.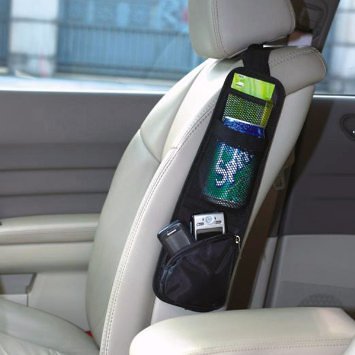 It is a must-have accessory for traveling. You can use distinct pockets to carry items like pens, documents, phones, tissues, and water bottles.
Binder Clips Aren't Just For Binders
Take a binder clip to hang your sunglasses on the visor. They are perfect because they are super cheap and you will never run out of them.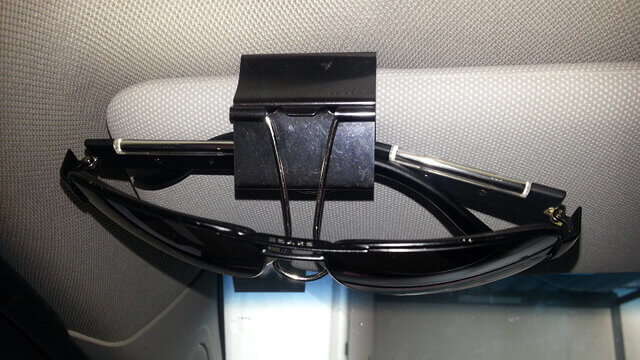 Make sure to fit two clips together in opposite directions. If you're worried about scratches on the sunglasses, you can use duct tape to cover the inside of the clip.
A Must-Have Snack Bag
You never know when your luck will run out if you are stuck in traffic. Or you might not have enough time to go through a drive-through for a quick bite.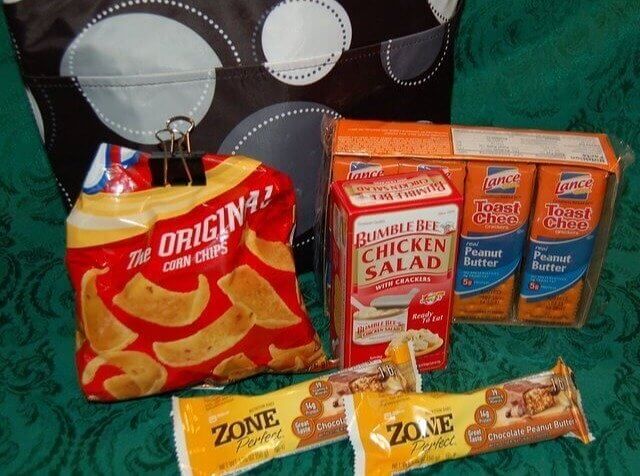 To prepare yourself for such a situation, it would be best to pack protein bars, crackers, and water to curb your hunger for the time being.
A Sun Visor Organizer Keeps Everything Right Where You Need It
You know by now that there are so many tricks and tips to organize your car. We think this car visor organizer is perfect for those who can sew a little bit.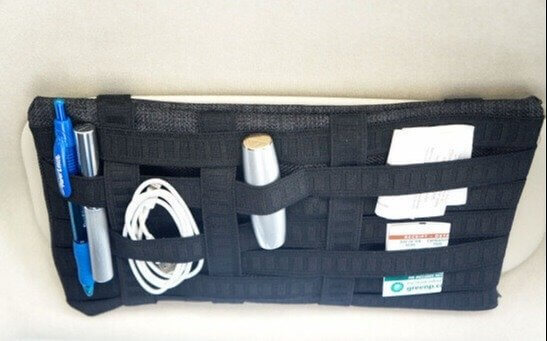 You can take an elastic and sew it to keep sunglasses, pens, and other items in reach. We know you'll love it.
Organize Oil And Fluids In A Shower Caddy
You already know by now that shower caddies are great for – the shower, of course – and many other things.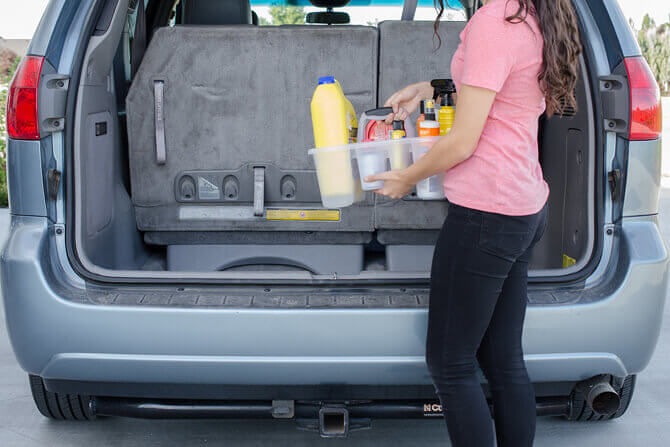 Many creative solutions use shower caddies, and one of them is using a shower caddy to organize all fluids for your car. This simple little hack can save you from a lot of inconvenience in case of any spills.
Always Keep A Car Log
It is always recommended to keep track of your auto maintenance. You can find many free downloadable templates on the internet.
You should keep a car log as it helps you keep track of auto maintenance and can be useful if you want to sell the car in the future.
Keep A Large Tupperware Container As a Trash Can
It would be best to buy a large Tupperware container for your car because the lid can be super helpful in preventing spills.
Consider this hack as it also helps seal in smells if a child vomits in case they get motion sickness.
Go With A Pop-Up Trunk Shelf
If your groceries get smashed against the back of the trunk or the eggs always get broken, there is an easy solution to the problem.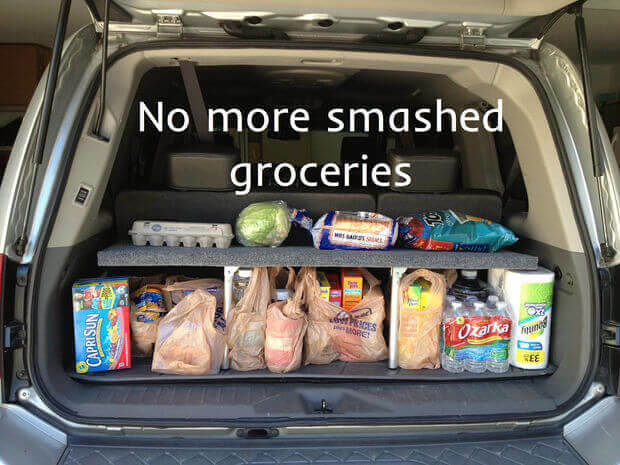 You can find many videos and articles on the internet on making a pop-up trunk shelf that will ensure your groceries or luggage don't get crushed.
Double Your Trunk Space
If you want to double your trunk storage space, this DIY cargo shelf can prove super helpful.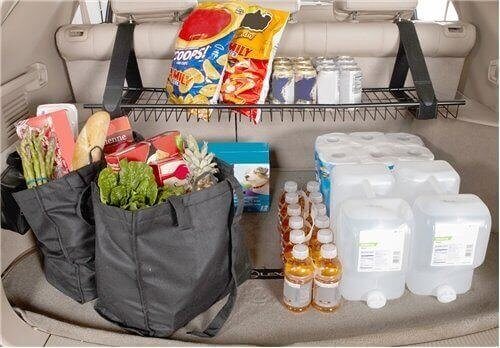 You can check out videos on YouTube on how to make a cargo storage shelf in the back of a car.
Don't Fear A Flat Tire, But Always Be Prepared
Flat tires can happen anywhere, and most of the time, they happen when you're in a hurry and have to be somewhere. It seems like tires have become smart and have realized how to make humans suffer. So, you should become innovative as well and prepare yourself for the worst.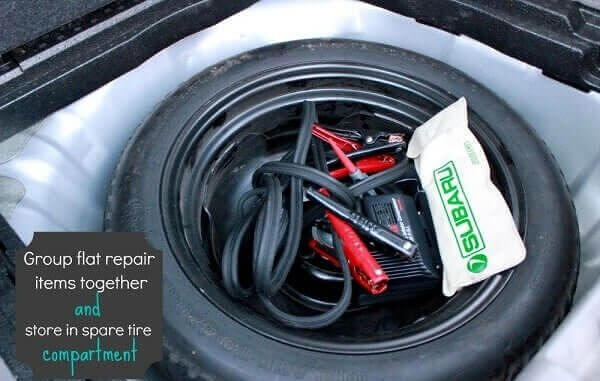 Changing a flat tire is hard, so you have to be organized to make it less complicated. Gather repair items like a tire pump, a can of fix-a-flat, a 12-foot jumper, jack wrench, and store them in the spare tire compartment.
Spare Car Key Holder Hack
As you can lose your car key, there's no harm in having a spare one for an emergency. This hack is reassuring to some extent. There is always a chance someone else might find the key, but you can be creative in hiding it.
This hack ensures you never get locked out again, and you will never have to feel frazzled when you can't find your keys.
Pack Clothes And Other Items Smartly
We feel that plastic storage containers are extremely underrated. They don't get the recognition they deserve. For instance, you can use them to store and organize clothing items easily.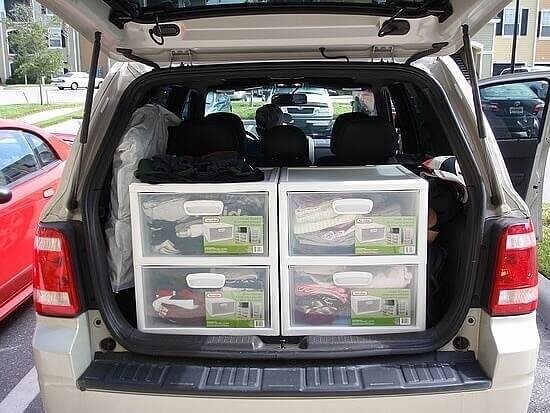 So next time you are moving, try the hack of maximizing the storage space with plastic containers.
Get Fancy With A Luxury Closet
If you are always traveling due to business and have to look sharp for meetings, this hack can benefit you big time.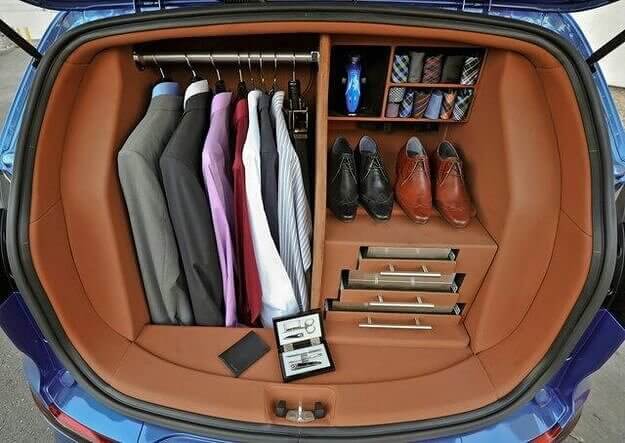 All you have to do is turn the trunk into a closet. You can also add casual attire to your moving closet if needed.
Use Shower Caps To Keep The Car Clean
Are you a hiker? Do your kids run into the car with dirty shoes after playing outside? You try your best to keep the car clean, but nothing works.
Using a shower cap is an inexpensive way to keep the car clean. Afterward, you can easily wash the shower cap. Moreover, this hack also helps in recycling shower caps.
Use Ball Claw To Free Space
If you're going on a trip with your kids, a basketball can take up a lot of space. This is where you can use a ball claw to keep the ball fixed in place.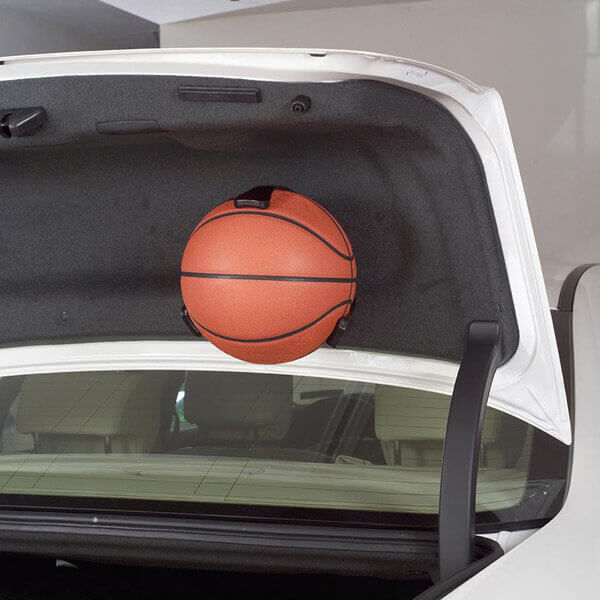 You can also use Ball Claw to keep your prized signed collections clean in a minimal way!
Use A Storage Case To Make Extra Room
The best way to keep your car's back seat and floor organized is to use storage cases, as shown in the photo. The storage box is easy to install.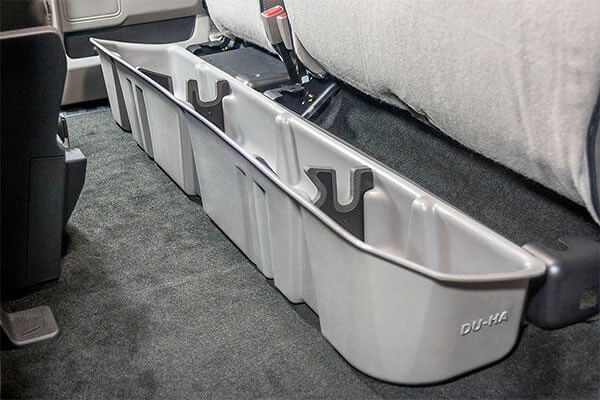 You can go with the storage box to organize your gear and keep the floor clear of clutter.
Zipper Storage Bag Hack
Whether you have faith in the impressive utility of zipper bags or not, experts believe that you should always keep a few of these bags in your car.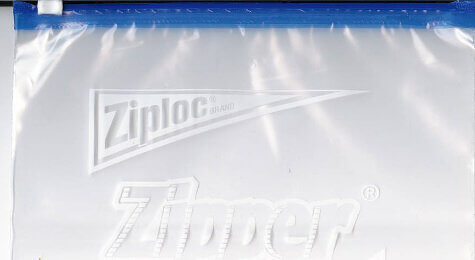 Zipper bags are super helpful in almost every situation. If you have kids and don't have zipper bags, what are you even thinking?