Who doesn't love Disney, right? For many of us, it represents our childhood. The characters have become icons and they are drawn in such a memorable way. But have you ever wondered what they would look like as real people? Finnish artist, Jirka Vinse Jonatan Väätäinen, created these 52 portraits of beloved Disney characters reimagined as real people. So, sit back and let the nostalgia sink in.
1. Ariel From The Little Mermaid
It was mandatory for us to include Ariel. Here, the artist was able to perfectly capture her innocence.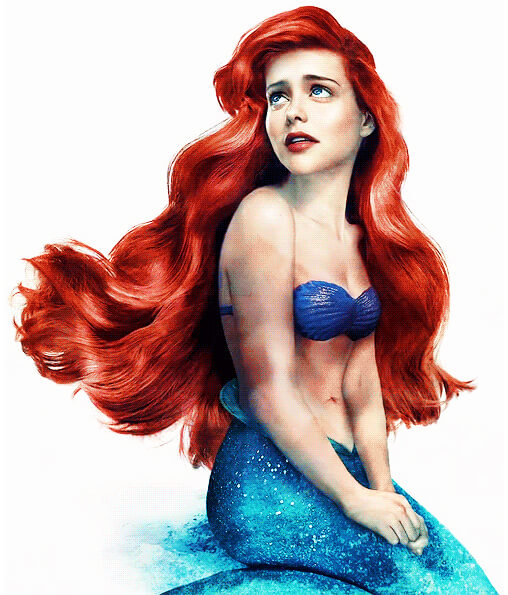 No matter how hard you try, you cannot get enough of this portrait.
2. Captain Li Shang From Mulan
In Mulan, Captain Li Shang is portrayed as a powerful, no-nonsense, steadfast character.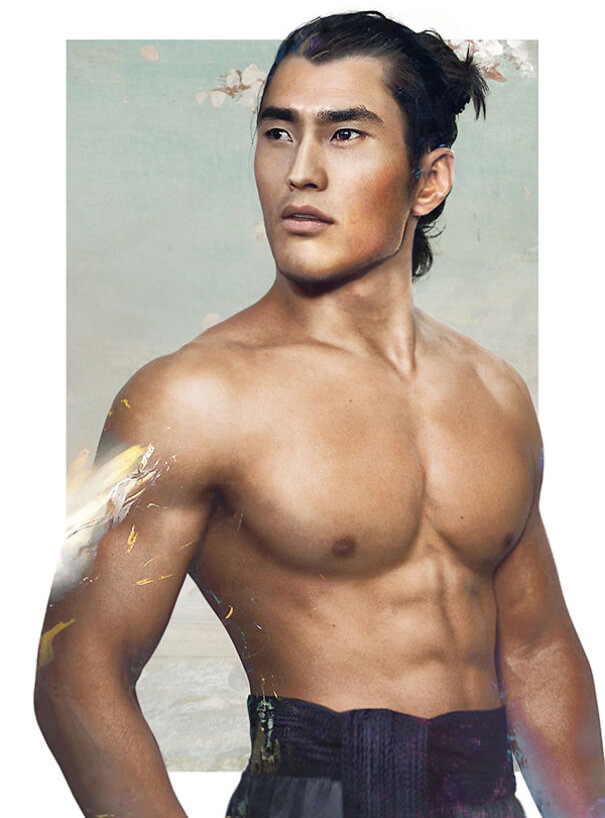 We have to admit that the artist did justice to the character with a portrait that shows Li Shang's dashing looks, strong physique, and determined personality.
3. Ursula From The Little Mermaid
Given that the artist went with Ursula to be his early work, we can't help but fall in love with his artistry.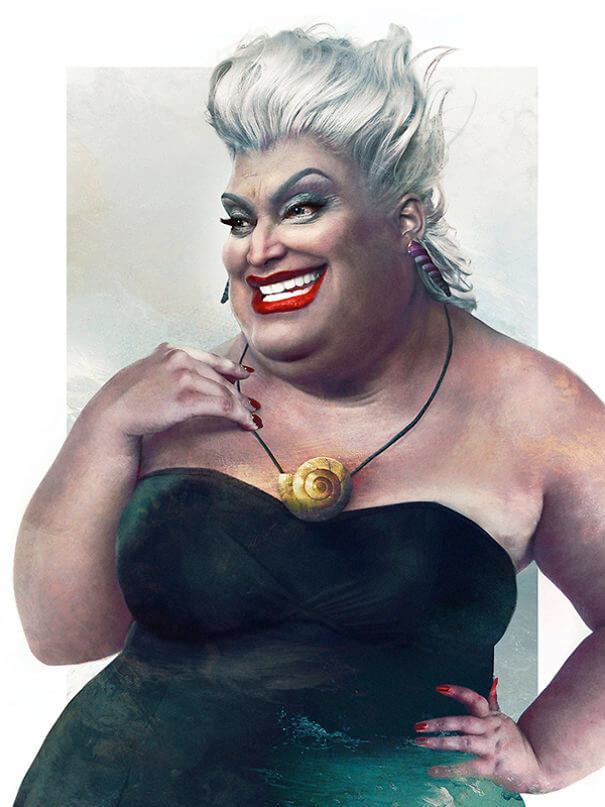 This portrait perfectly shows why the evil sea witch is considered one of Disney's best villains of all time.
4. Queen Elsa From Frozen
Born with the power of ice and snow, we can see Queen Elsa's classy and sophisticated look in this portrait.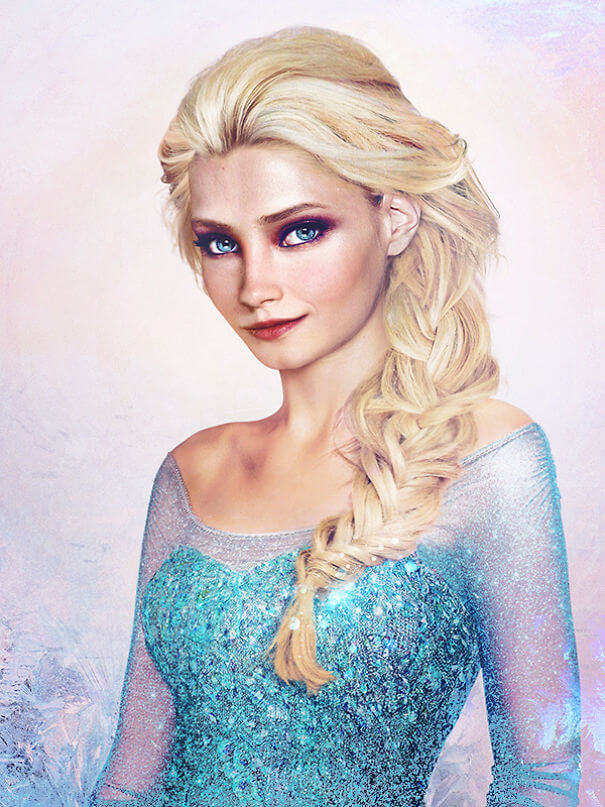 Did you know that Elsa was originally portrayed as a dramatic villain in early drafts of the film?
5. Belle From Beauty And The Beast
Ah, the beautiful and intelligent Belle from Beauty and the Beast. She looks flawless here.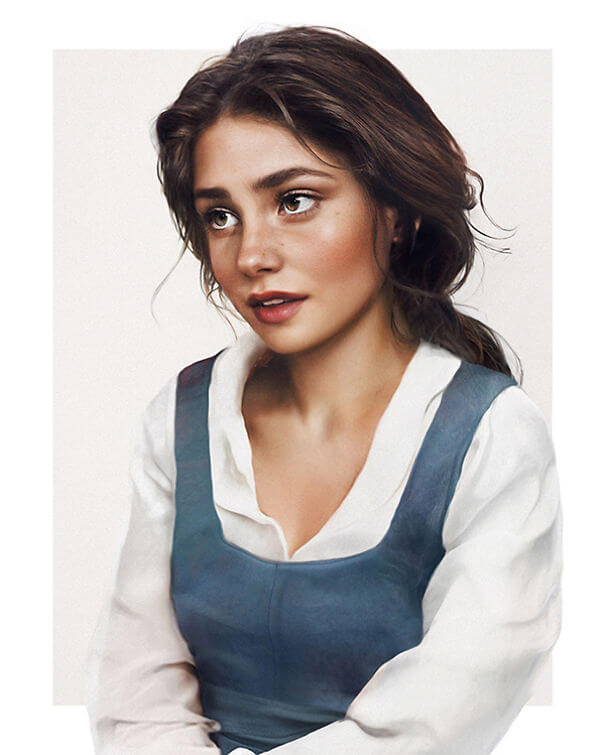 We are surprised how the artist was able to highlight her confident yet innocent personality in this portrait.
6. Prince Eric From The Little Mermaid
Seeing this would make most men think, "oh, thank God he doesn't exist in real life."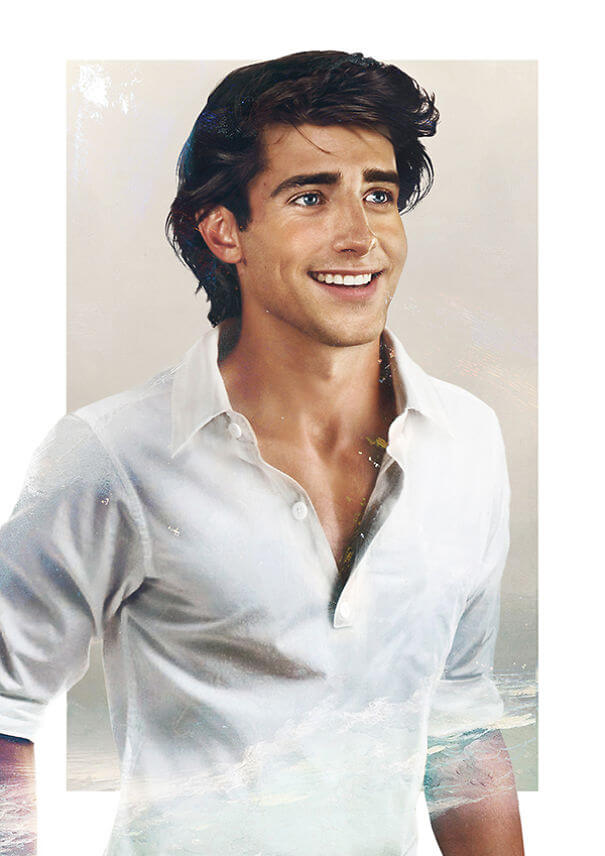 After looking at Prince Eric, it's okay to feel jealous of Ariel.
7. Cruella De Vil From 101 Dalmatians
You know the artist has done a fabulous job when he is able to captured the evilness of wealth, fashion-obsessed heiress, known as the Devil Woman.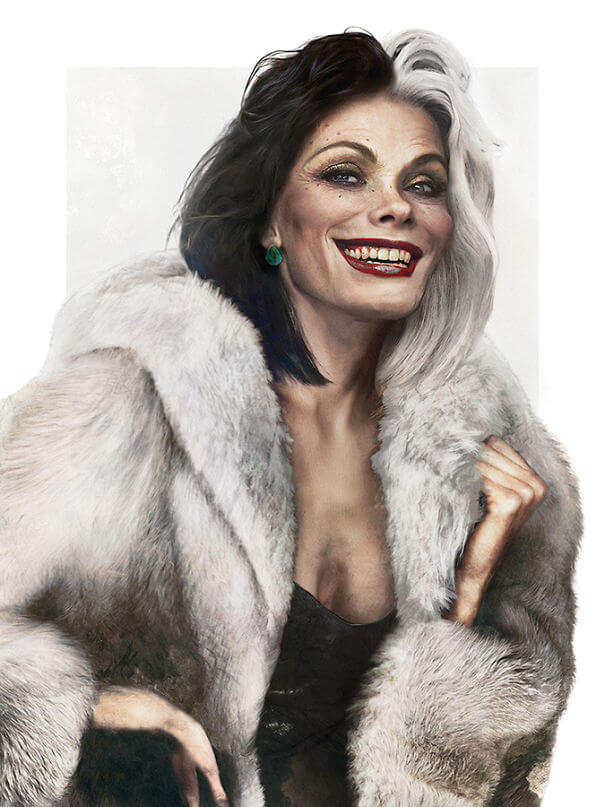 If you notice one thing, the artist worked on every little detail, even her yellow-colored teeth from smoking. Amazing work!
8. Moana From Moana
It must be challenging to make a near-perfect portrait of the vibrant and optimistic daughter of Chief of Motunui.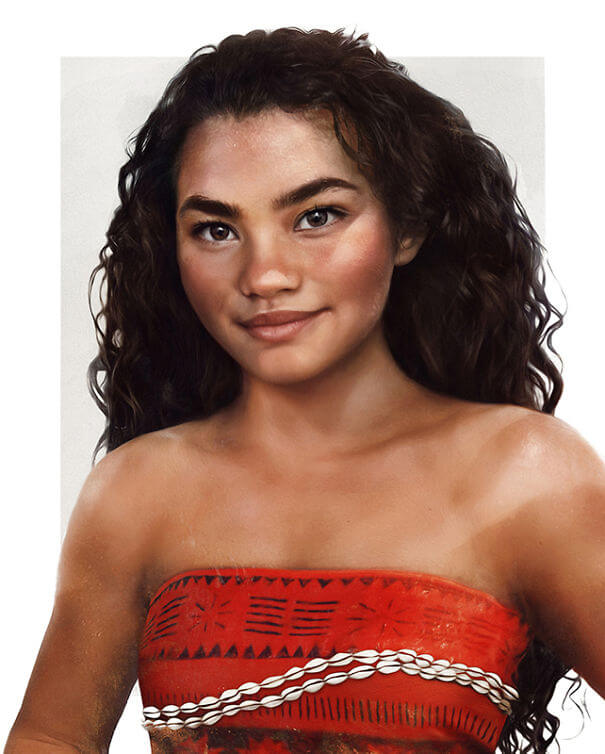 Well, the artist nailed it because it's stunning, and we love how he highlighted her natural beauty.
9. Tinker Bell From Peter Pan
It's incredible how you can see the mischief in the eyes of Tinker Bell in this portrait.
The artist certainly did a great job at capturing the sassy look of Tink.
10. Kocoum From Pocahontas
Here is a portrait of Kocoum, the Native American warrior who rarely smiles.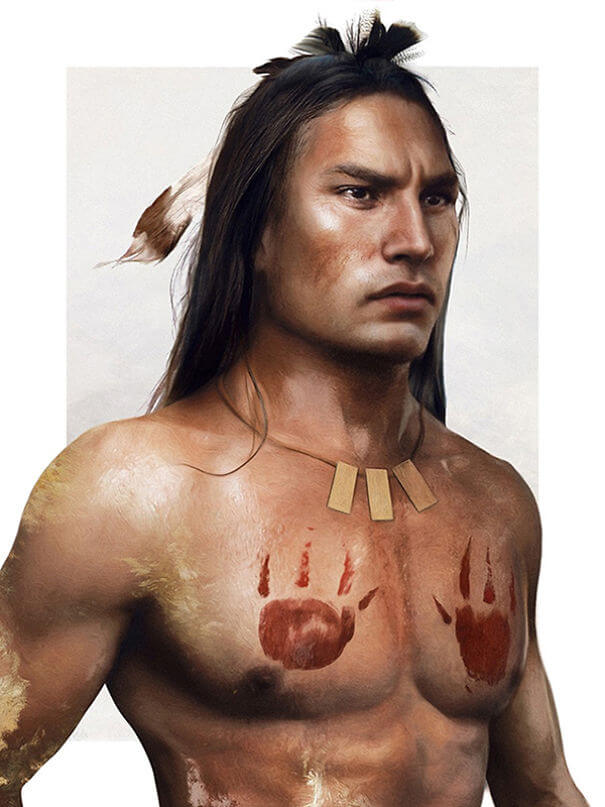 The artist was able to portray Kocoum's serious look quite flawlessly.
11. Hades From Hercules
Who else here loves Hades from Hercules? Just watch Hercules again for the sake of this funny yet evil character.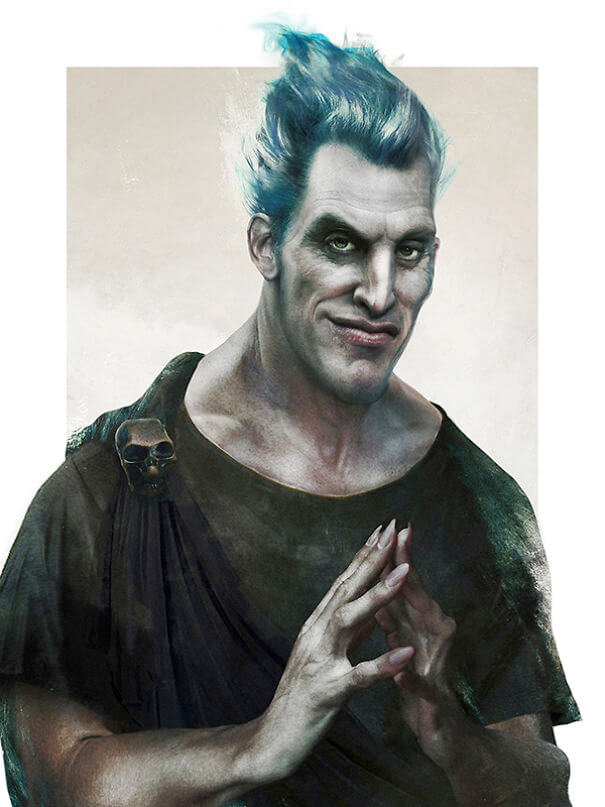 We can almost hear the voice of the fast-talking Lord of the Dead from this photo.
12. Snow White From Snow White
Ah, it's great to see that the artist didn't make many changes to the beautiful blush on Snow White's face.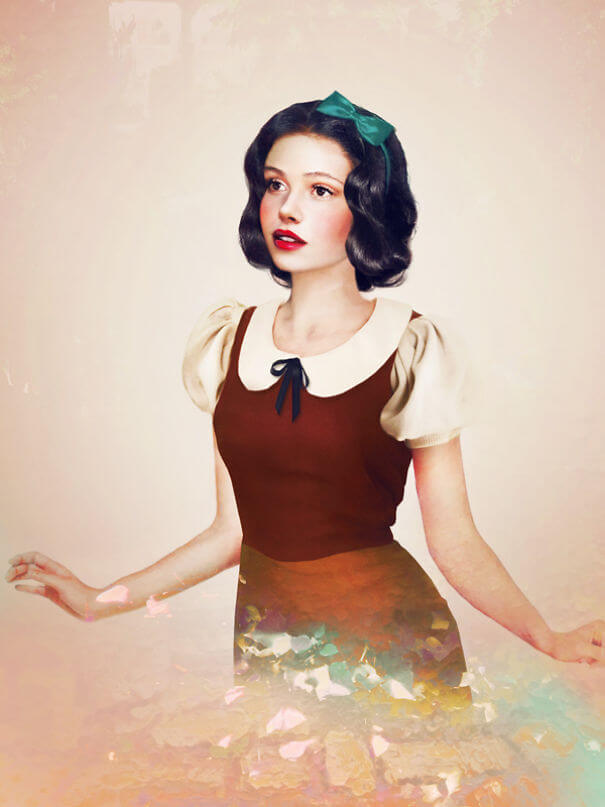 This portrait is a magnificent combination of both beauty and innocence – two things that made Snow White such a beloved Disney character.
13. Mulan From Mulan
We love how the artist was able to capture her round face and rosy cheeks beautifully.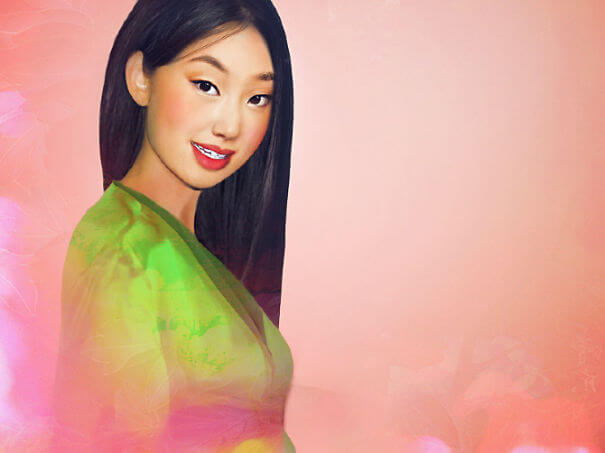 The artist paid attention to details and that's why she looks a bit absent-minded and naive, just like the character.
14. Jane From Tarzan
The artist knew how to capture the charismatic look on Jane's face.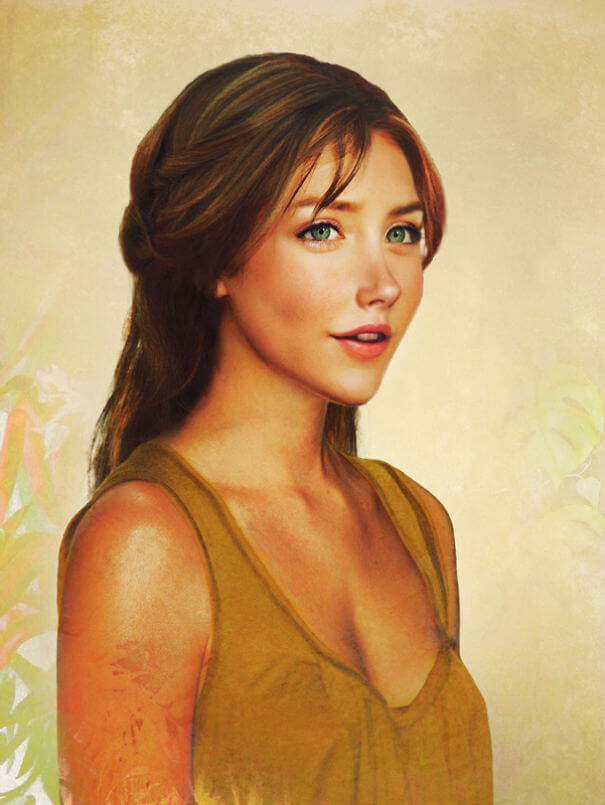 Everything looks stunning, but we can't help, but admire her attractive eyes.
15. Princess Anna From Frozen
Is it just us or can you also hear Princess Anna's voice through this portrait? And what about those eyes?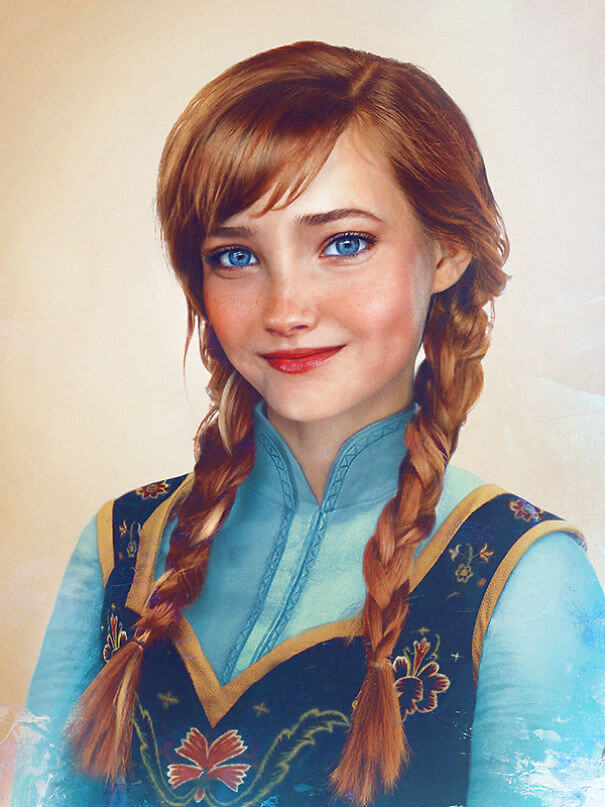 It is inarguably a fantastic job by the artist at capturing the essence of the character while still keeping her look like a real person.
16. Cinderella From Cinderella
After Prince Charming, here is a portrait of Disney's most beloved character, Cinderella.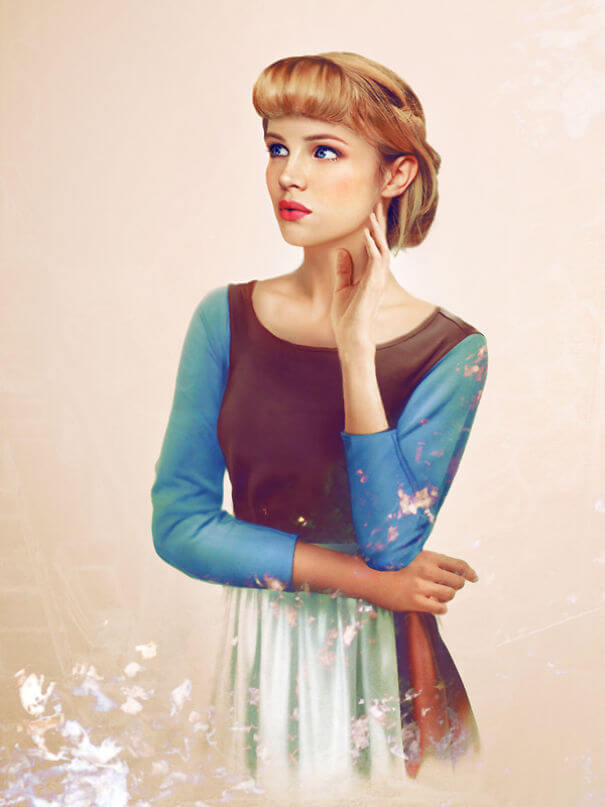 The artist captured her true elegance and poise.
17. Princess Jasmine From Aladdin
Would it be wrong to think that this Princess Jasmine version is the all-time best version?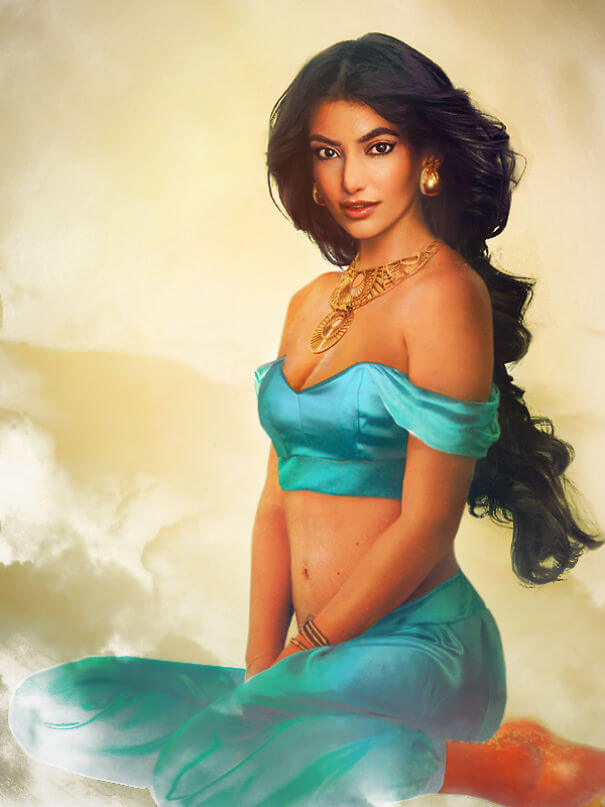 And ladies, hold your hearts because the next portrait will sweep you off your feet.
18. Alice From Alice In Wonderland
Don't we all love Alice from Wonderland? Here is a portrait that'll create a new memory of her and even bring back old memories.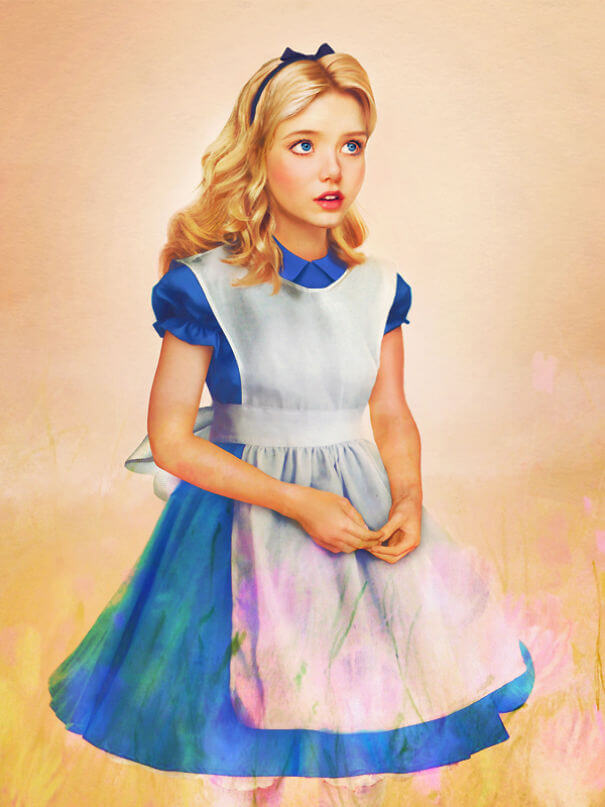 The artist did justice to such an innocent and cute character with a perfect portrait.
19. John Smith From Pocahontas
John Smith looks so real and so handsome in this portrait and we won't judge you if you start kissing the screen.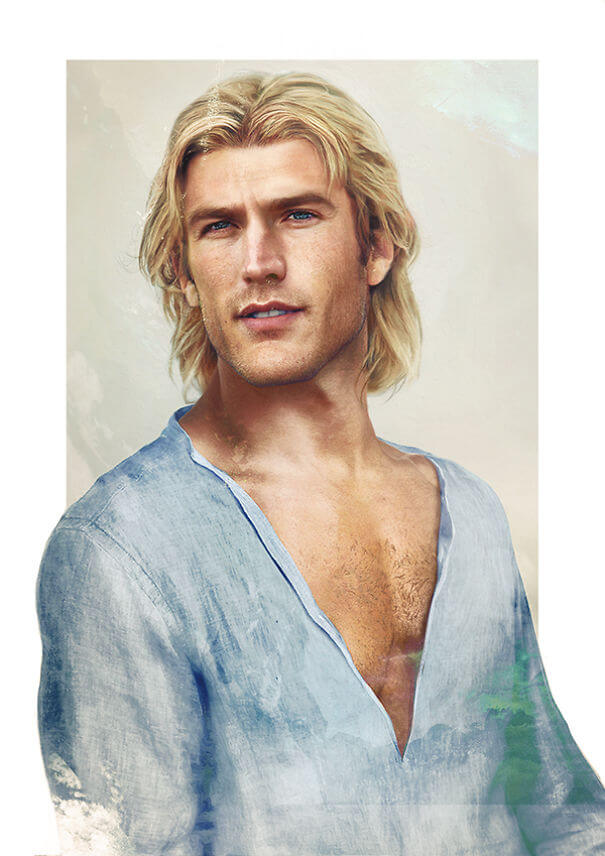 If a Genie comes to us, all three wishes would be spent on: (1) Making him exist in real life (2) Having a chance to meet him in person, (3) Have him play a role in the live-action Pocahontas movie.
20. Kristoff From Frozen
This handsome hunk was raised by a colony of trolls and by the looks of it, they raised him well.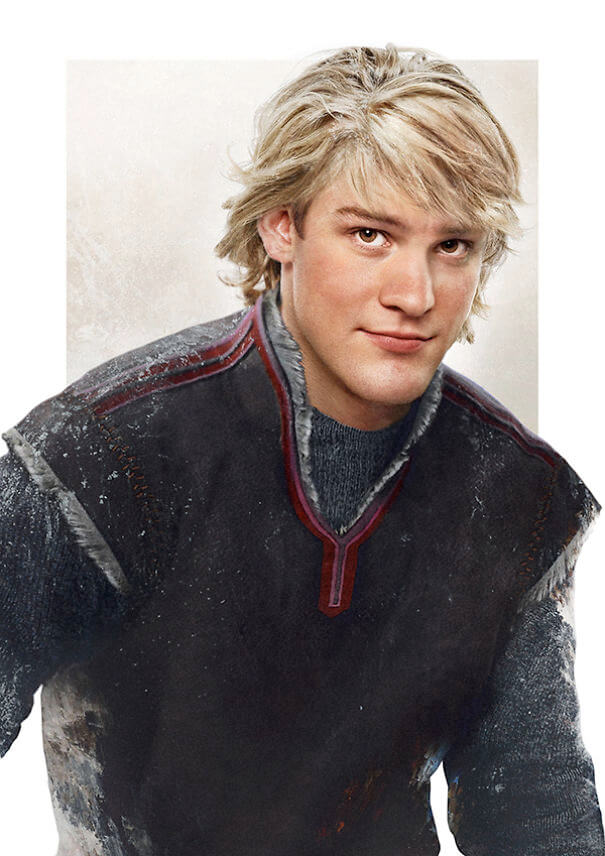 We can see his selflessness, fun-loving nature, and sweet personality in this portrait.
21. Lady Tremaine From Cinderella
All fans of Cinderella remember the Wicked Stepmother that is cruel, power-hungry, and manipulative.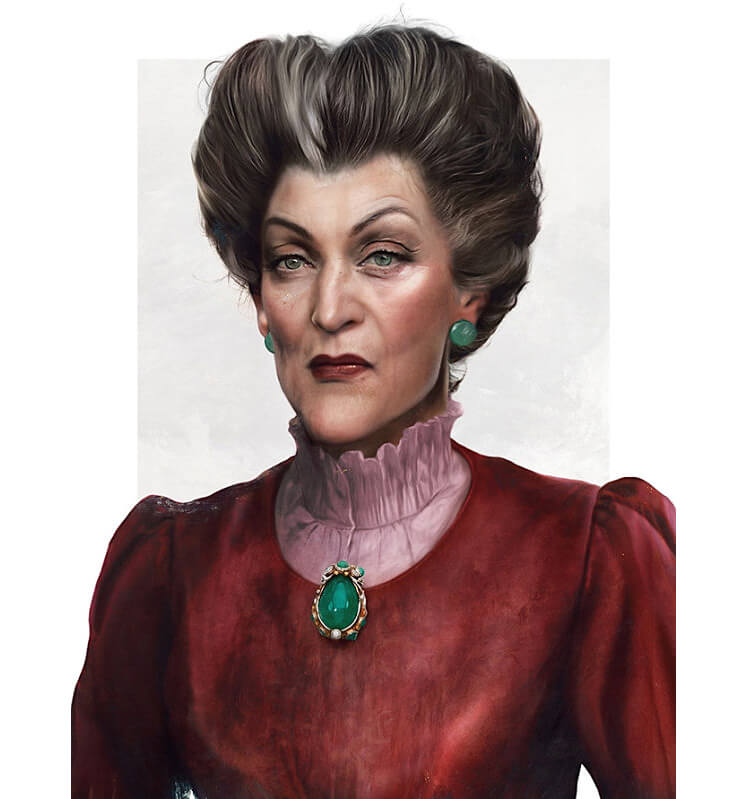 It is amazing how the artist was able to show Lady Tremaine's wicked nature and hatred towards Cinderella just through a portrait.
22. Prince Adam / Beast From Beauty And The Beast
As Prince Adam was cursed by an enchantress as a punishment for his cruel and selfish nature, this portrait shows his arrogant side.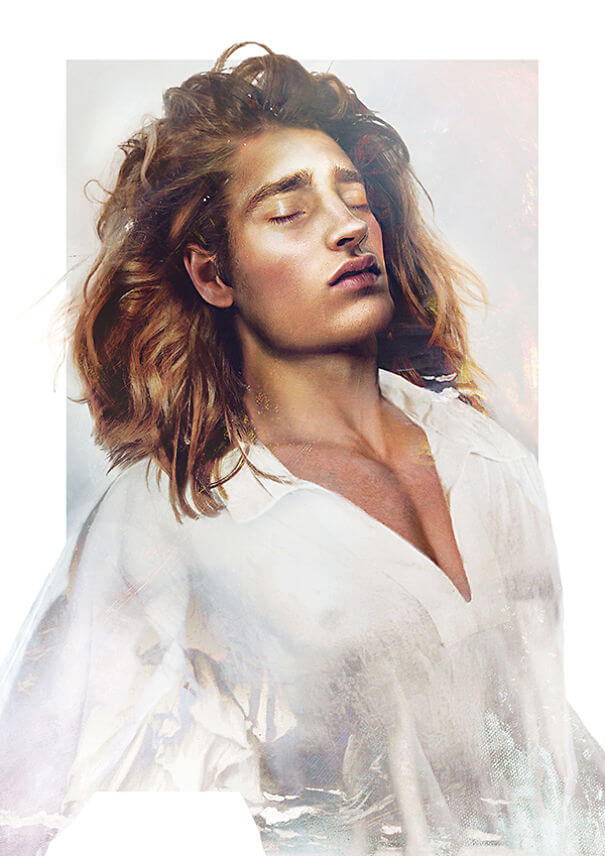 Nevertheless, if you show this portrait to your male friends, many of them would feel much better knowing that he does not exist in real life.
23. Tiana From Princess And The Frog
This version looks way more elegant and beautiful than the cartoon version.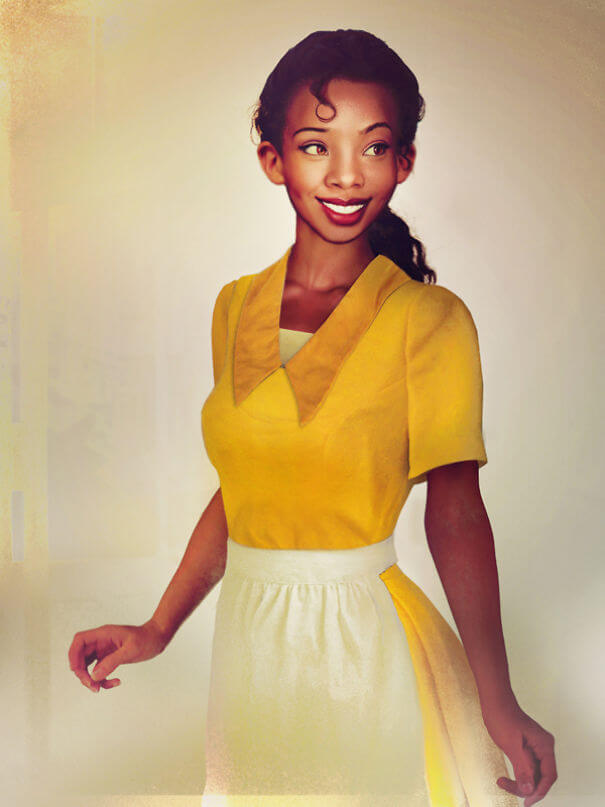 In this portrait, Tiana is brought to life how everyone imagined her.
24. Rapunzel From Tangled
Rapunzel, the beautiful princess of Corona is kind, energetic, curious, and loving.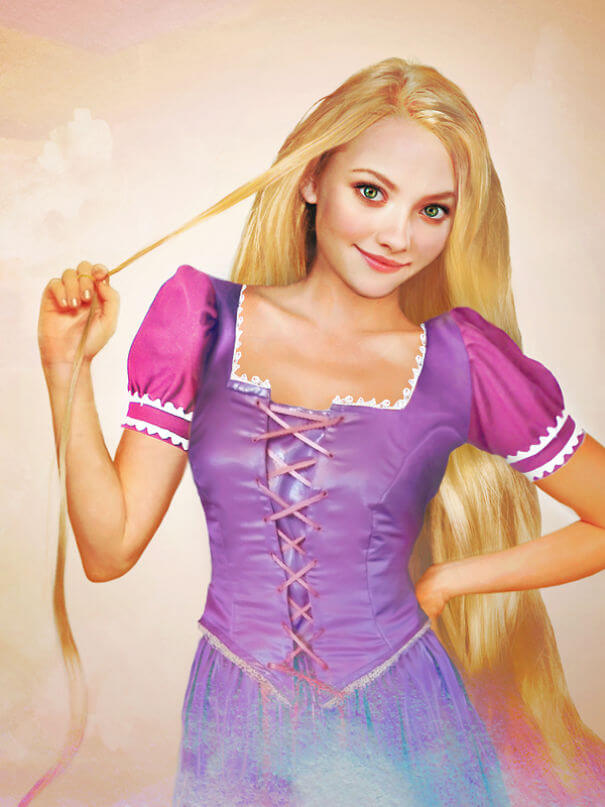 Thankfully, the artist was able to show most of her qualities through this portrait.
25. Tarzan From Tarzan
Although we loved Alexander Skarsgård in 2016 The Legend of Tarzan, we're having second thoughts after seeing this portrait.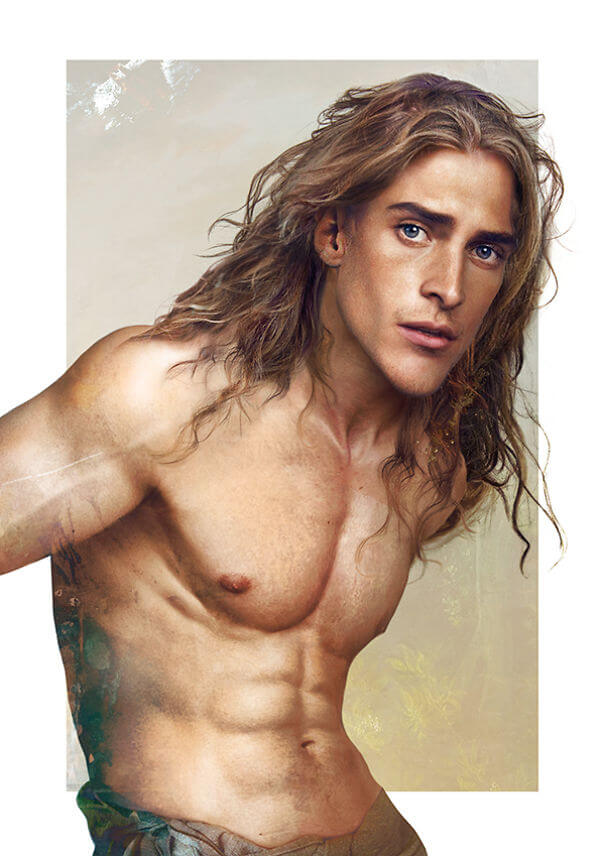 It is fair to say that this one is a pretty accurate portrait of Tarzan. Can someone please take us to the jungle?
26. Hercules From Hercules
In the 1997 animated feature film, we all came to know about the godlike strength of Hercules, son of Zeus and Hera.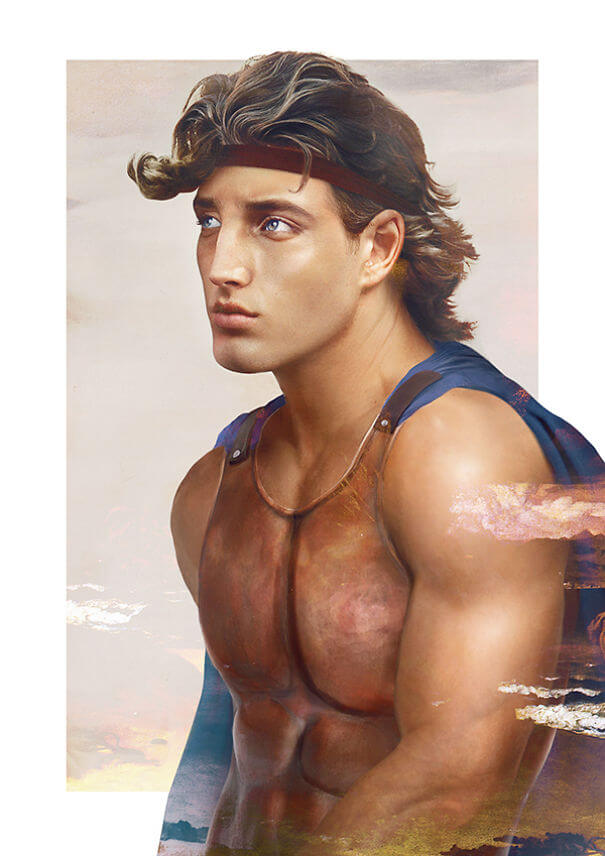 This portrait shows how the character would look like as a real person, and it is perfect.
27. Aladdin From Aladdin
Well, this is very much like live-action Aladdin and we think it is perfect.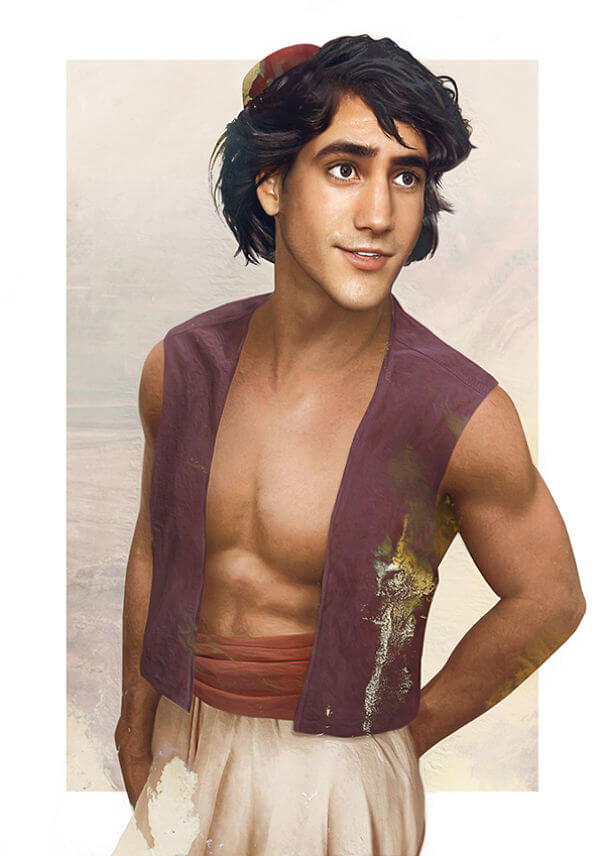 We are not complaining, but it sure looks incomplete without Abu. What do you think about it?
28. Captain Hook From Peter Pan
Captain Hook, the bloodthirsty commander of the Jolly Roger, never looked so real before.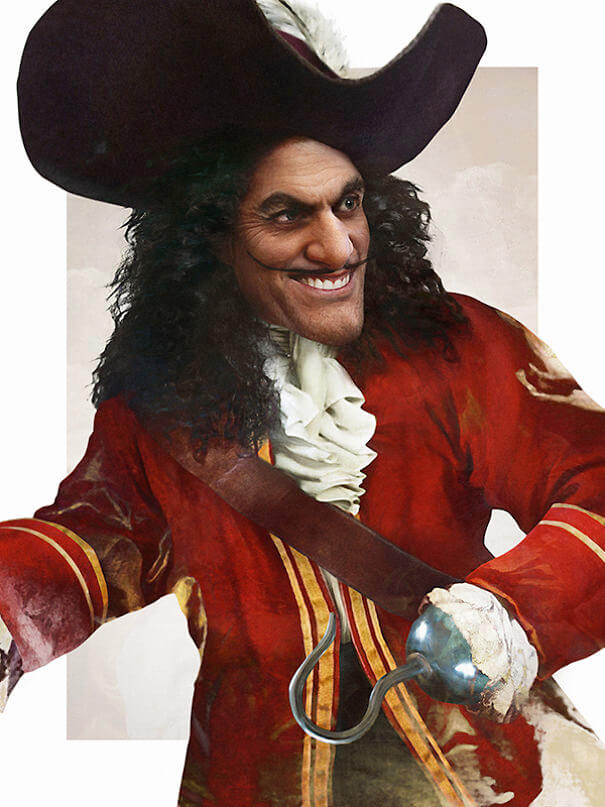 This portrait is able to show the vengeful, ruthless, and greedy side of Captain Hook.
29. Prince Charming From Cinderella
Here, the Prince of the faraway kingdom has a graceful look. In fact, it exceeded our expectations.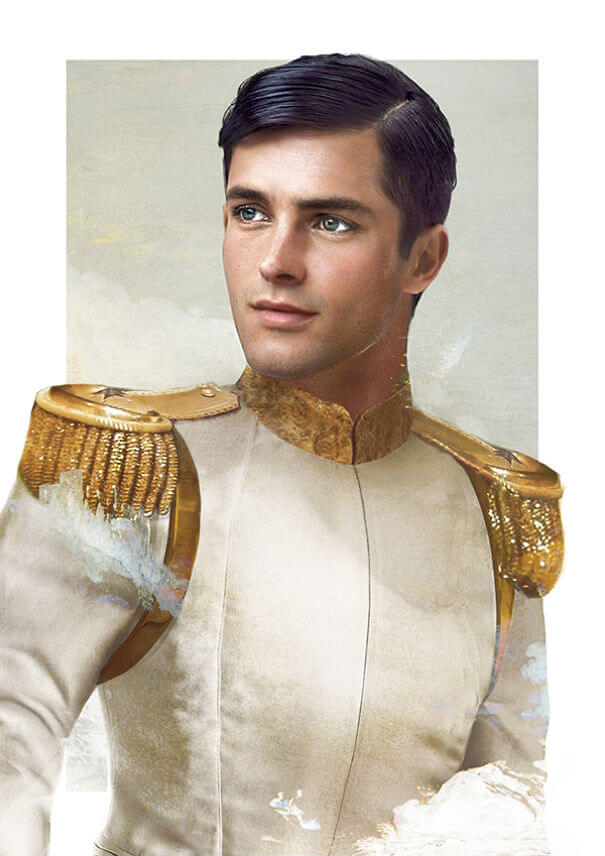 With a handsome person such as Prince Charming, one could dance with him all night long.
30. Merida From Brave
We didn't know that the Scottish princess and the daughter of Queen Elinor and King Fergus would look so cute in this version as well.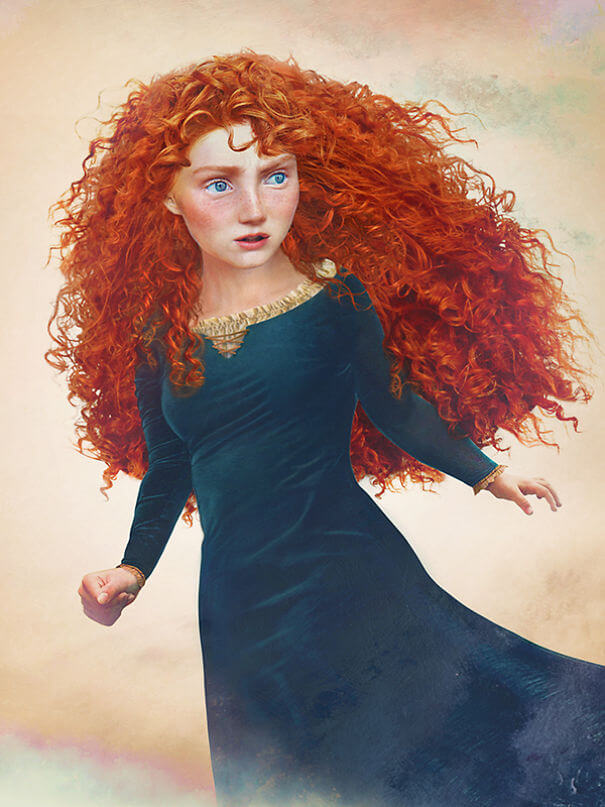 Merida is correctly shown here as a brave and free-spirited girl – just like in the 2012 animated feature film.
31. Jafar From Aladdin
The artist did a splendid job of capturing the dark essence of Jafar in this portrait.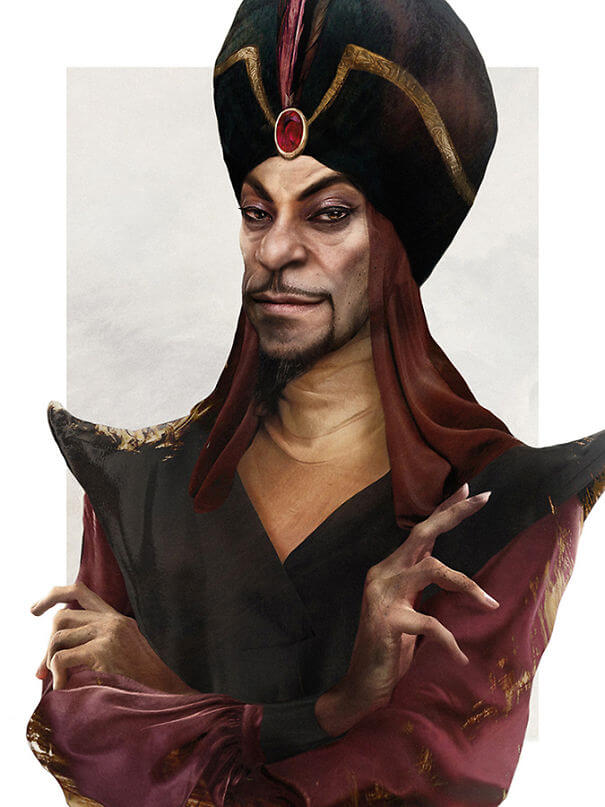 After all, we can see the evilness of the cold-hearted, power-hungry villain here.
32. Peter Pan From Peter Pan
Peter Pan, the leader of the Lost Boys, looks excited to spend his never-ending childhood enjoying the island of Neverland.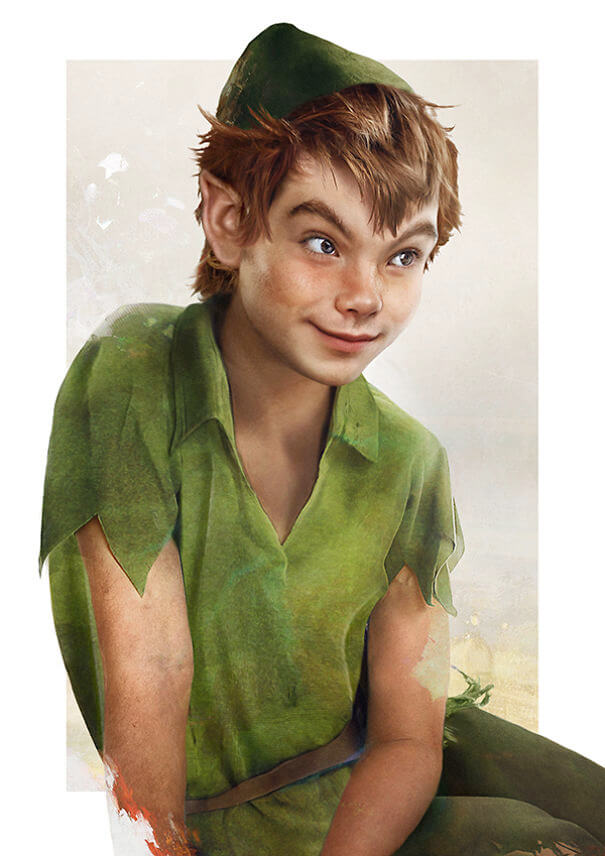 The portrait shows his careless attitude and mischievousness in his eyes.
33. Princess Aurora From Sleeping Beauty
Princess Aurora, the daughter of King Stefan and Queen Leah, was cursed to die by the evil Maleficent.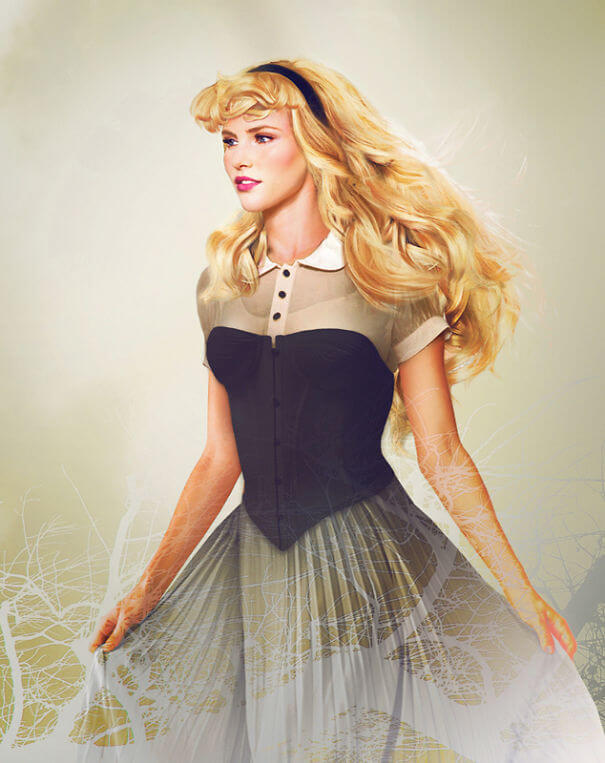 As the curse was broken by true love's kiss, we got to see this beautiful angel.
34. Wendy From Peter Pan
Here, Wendy Darling looks all ready to enjoy fantastical adventures with Peter Pan.
The portrait rightly shows her dreamy and adventurous side.
35. Maleficent From The Sleeping Beauty
Here is the evil fairy that uses the evil magic in revenge for not being invited to the christening of Princess Aurora.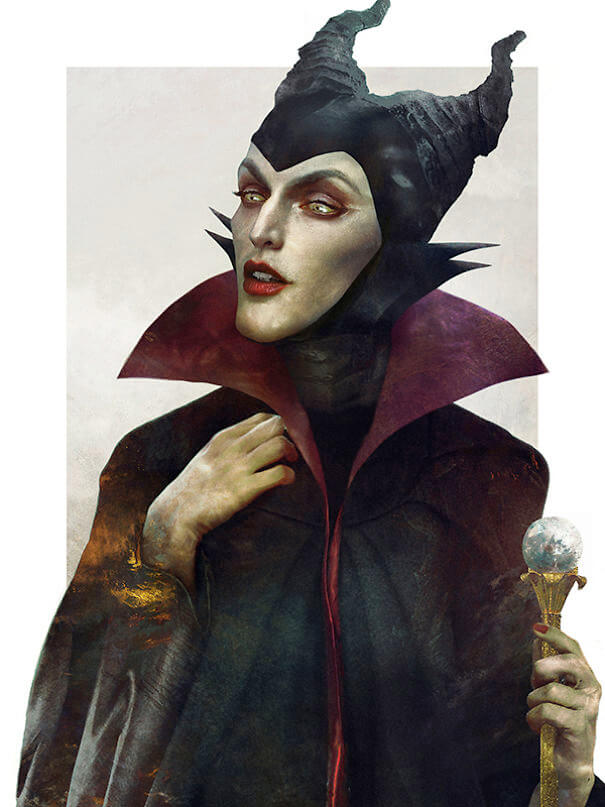 This portrait is simply amazing. And who else thinks that Angelina Jolie is the one true actress to play the evil queen for like ever?