There are so many talented makeup artists out there but one makeup artist, Saraswati from Malaysia, has made a name for herself through turning herself into any pop-culture icon. What's so special in this cosplayer? Well, she is a Muslim so she incorporates her hijab into her makeup looks in such a clever manner than you can't stop admiring her creativity. So, get ready to be amazed.
1. Jessica Rabbit
The human wife of Roger Rabbit's Toon is a beauty and renowned as one of the most well-known sex symbols in animation.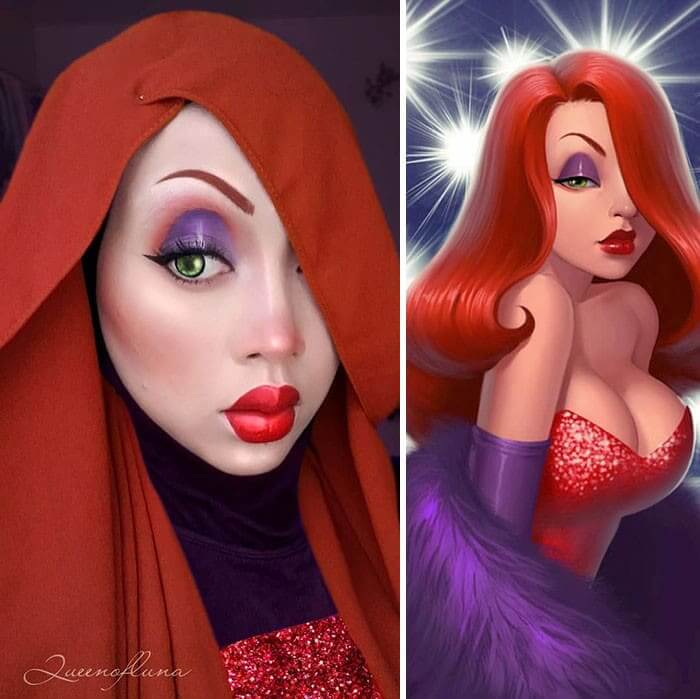 So, when the cosplayer decided to work on it, she knew that it was an uphill task. Thankfully, she did a great job to stun us...again.
2. Scar
Saraswati shocked her fans of over 400k on Instagram by uploading this transformation photo of Scar with a caption "Long Live the King."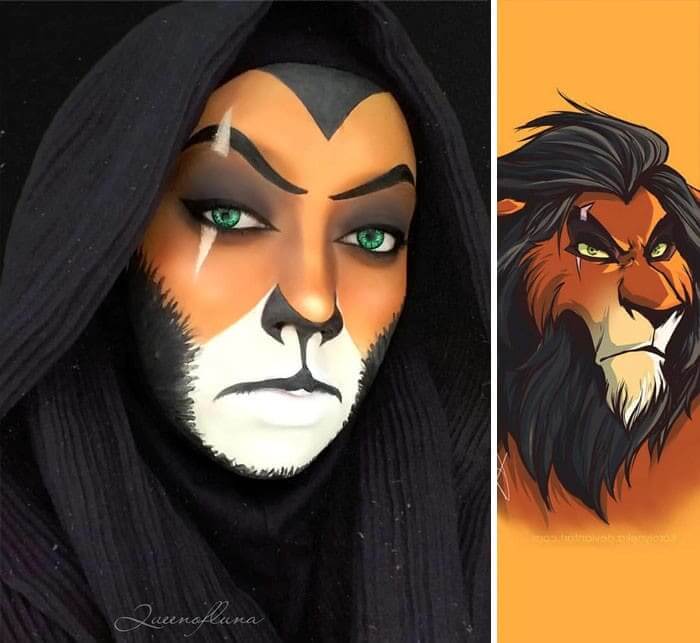 It was a way for her to show how much she was excited to see the latest Lion King movie.
3. Emily The Corpse Bride
Saraswati did a fabulous job in pulling off this transformation that requires a lot of attention to details.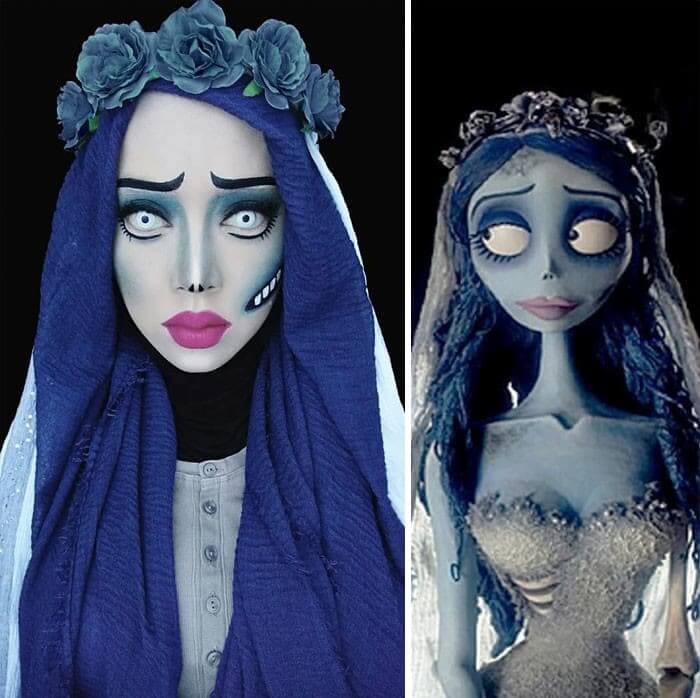 Corpse Bride Emily was a talented and wealthy lady in her lifetime and we are glad the artist did complete justice to such a beloved character.
4. Hades
The lord of the dead is either loved or hated by the fans of Hercules. But you have to admit that it takes a lot of creativity to pull off a character such as Hades.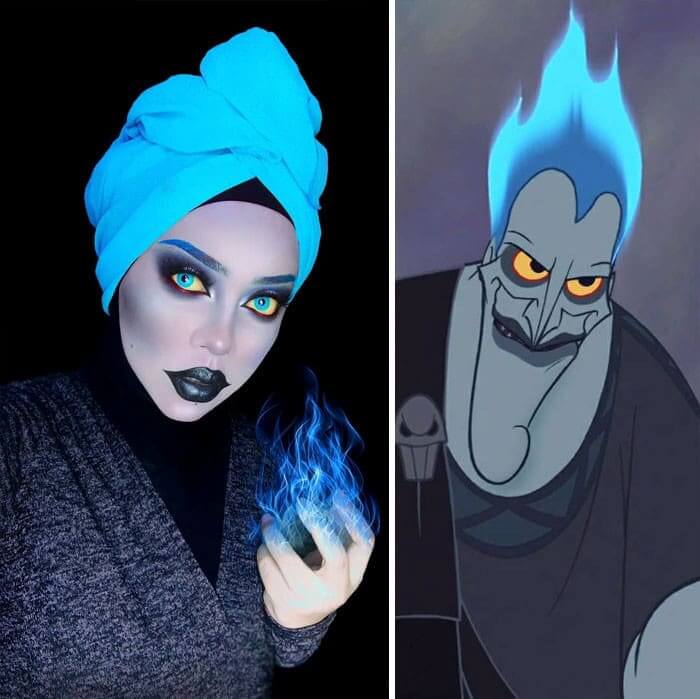 Well, Saraswati just doesn't know how to disappoint people because she has again done a great job, especially with her eyes and flame.
5. Betty Boop
Betty Boop's first appearance in 1930 made her an instant hit. No one knew at that time she would become one of the best-known and popular cartoon characters in the world.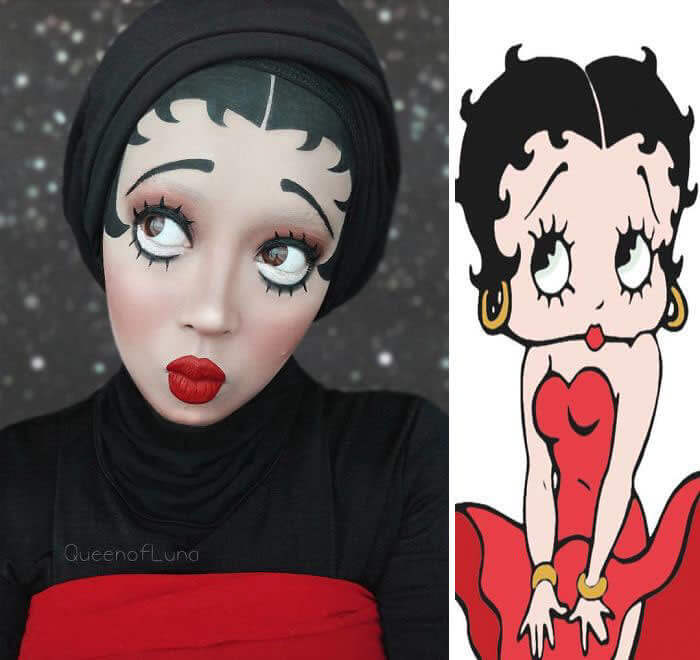 Saraswati's inspiration by Betty Boop tempted her to create this amazing transformation. By the way, she had to glue her eyebrows to make them invisible.
6. Princess Leia
Saraswati uploaded this photo of her transformation on the day before her birthday with a caption "May the 4th be with you!"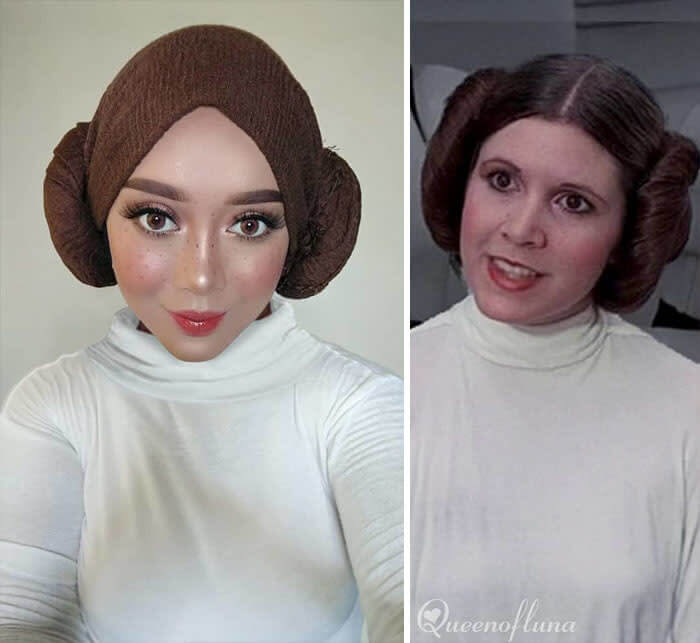 We have to admit that she is not only talented but has a great sense of humor as well.
7. Two-Face
Saraswati uploaded this cosplay of Batman's villain Two-Face with a really cute caption that said: "Since I always do two face looks, why not do Two-Face this time? Literally."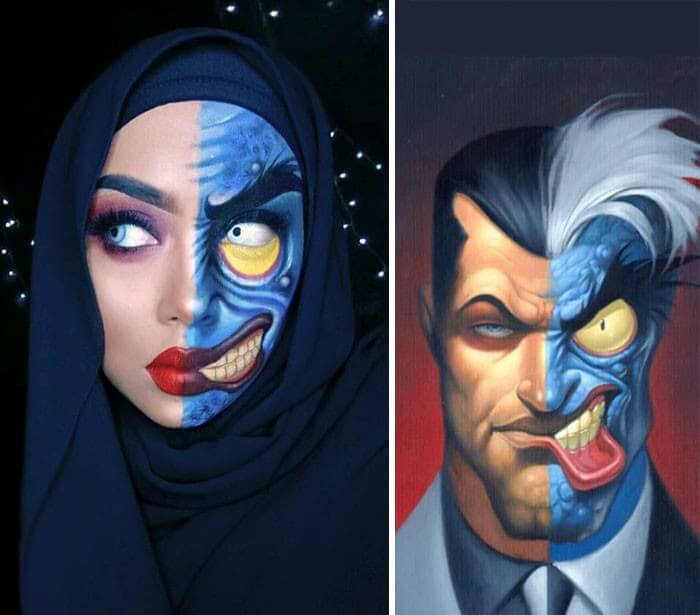 \
We really liked how she didn't go with the male version of two-face.
8. Hermione
Here is a treat for all Harry Potter fans out there. Doesn't Hermione look cute here? Saraswati is a big Harry Potter fan so she really wanted to go with her favorite character Hermione.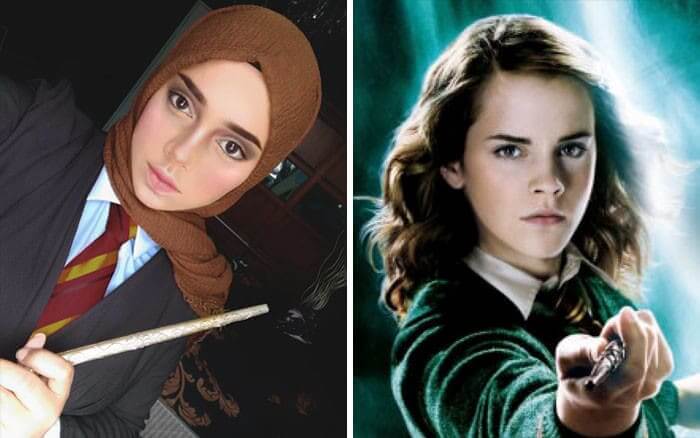 By the way, she used a window curtain holder as the wand.
9. Cinderella
Ah, don't we all love the story of a Girl, A shoe, and A prince? The love story has evolved a lot over the years, but Cinderella is the one that has remained as beautiful as ever.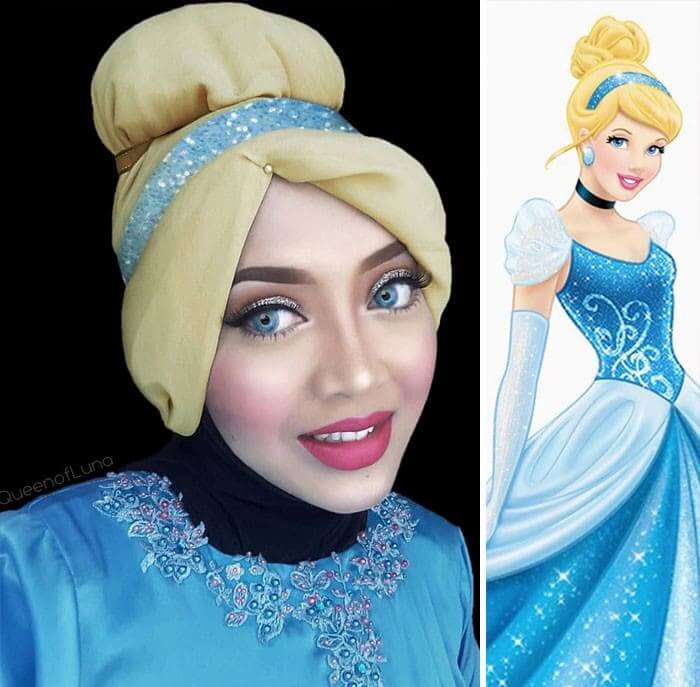 Saraswati wanted to show the world that every girl out there is as beautiful as Cinderella and she nailed it.
10. Evil Queen
Saraswati created this scary and creative Halloween inspired Evil Queen and we cannot stop admiring it.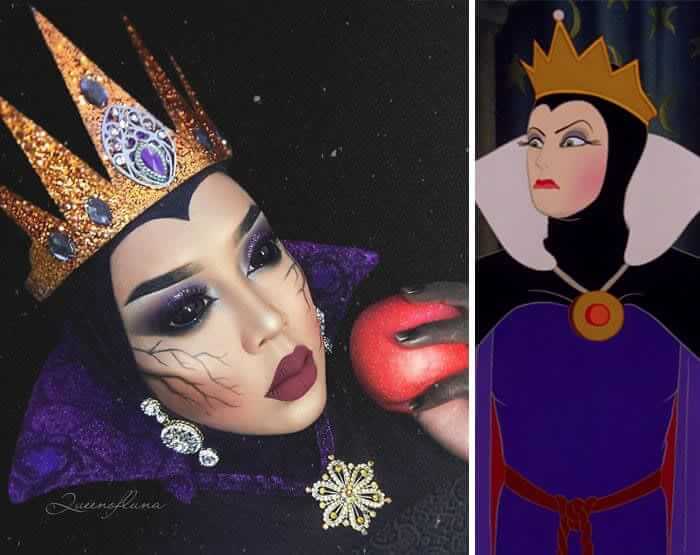 When it comes to creating an Evil Queen transformation, you can either be spot on or be a bit creative. The Queen of Luna certainly knew how to work the evil version of her.
11. Wednesday Addams
The Queen of Luna had her hijab braided just to complete the look and we are super impressed.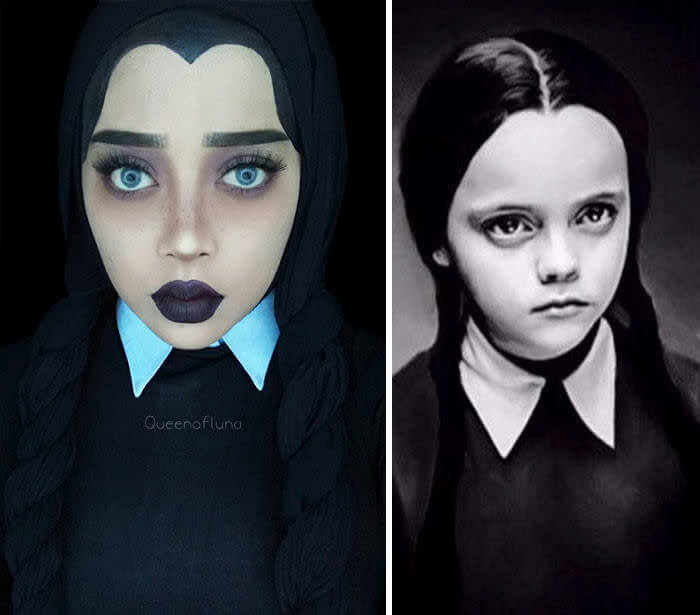 Wednesday Addams is an intelligent, forbidding, and sadistic character and that's why we are so intrigued by how the artist was able to show all of Addams's personality traits from just a cosplay.
12.Rapunzel
We can't believe how Saraswati does everything so perfect and yet so effortless.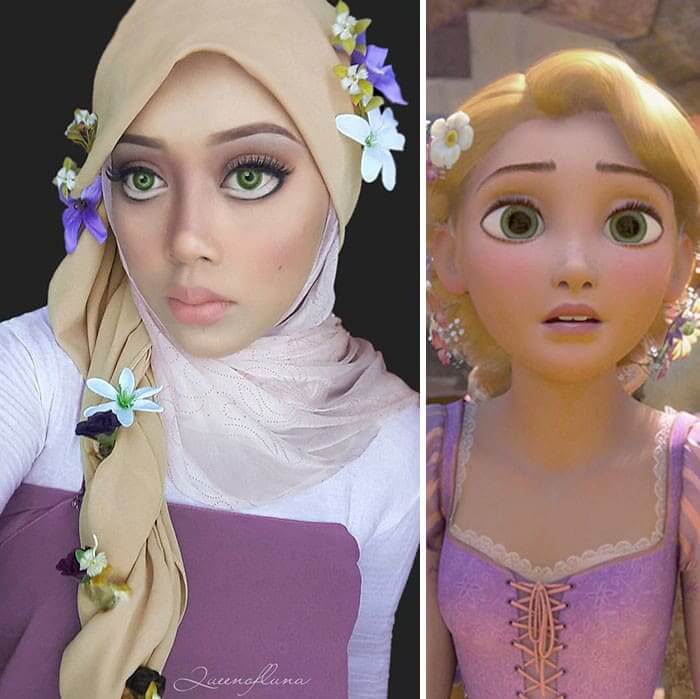 We know she must have spent hours creating this look, but why does it look so easygoing and pleasing on the eyes. Well, the list of admirers of her work and "beauty" keeps on growing.
13. Princess Fiona
Fans of Disney and Shrek would admit that Saraswati is unbelievable and she has done the best Fiona cosplay ever.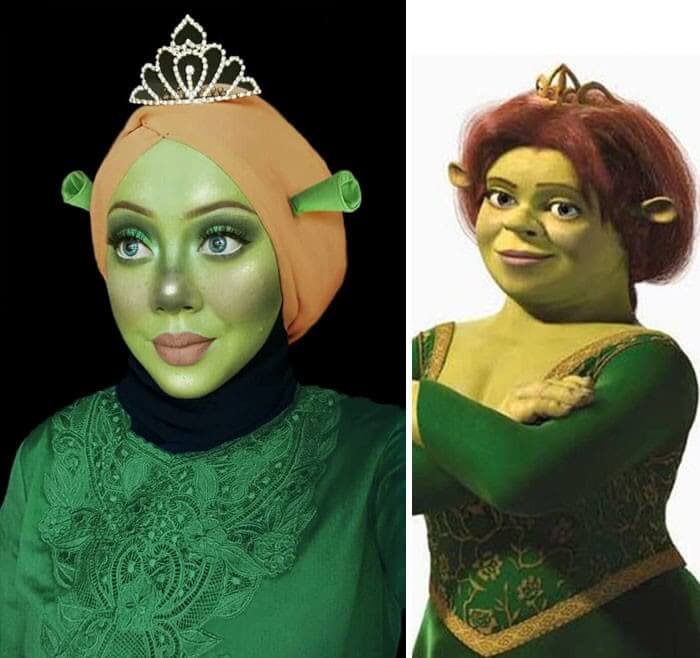 Here is what the artist wrote when she uploaded this photo, "I fell in love with this character when Shrek first came out 17 years ago (ikr, feel old yet?) cos she's not like other typical classical princesses."
14. Ariel
We all loved Ariel from the Little Mermaid because she gave us some great memories that we still cherish.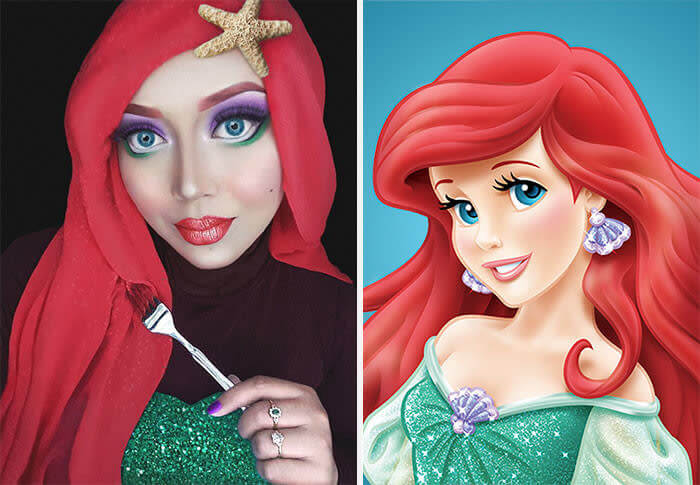 The artist did a fabulous job of creating a look that is near perfect. We loved it how she used a fork and it worked really well.
15. Joker
Joaquin Phoenix was phenomenal as the Joker and did justice to such a challenging role.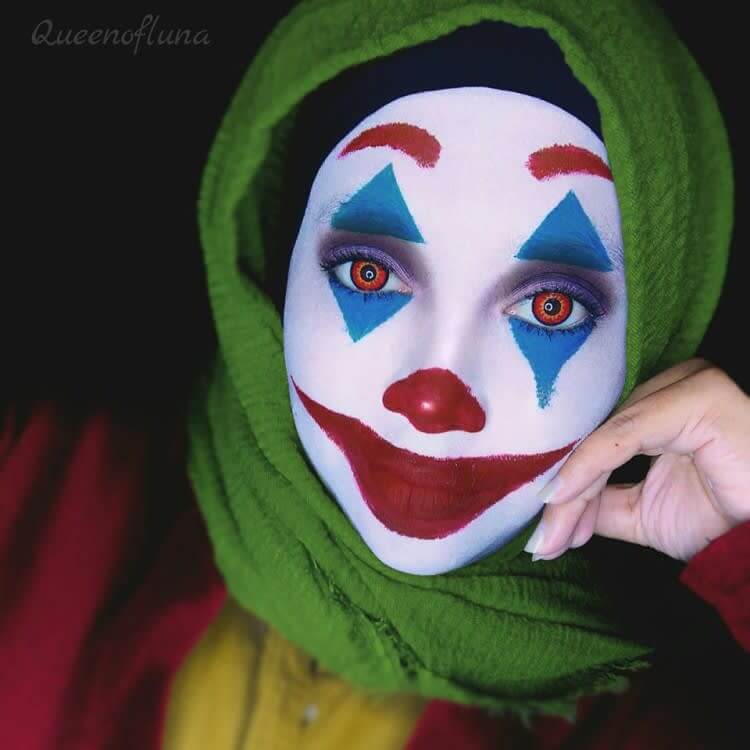 Saraswati doesn't know how to act, but she knows how to create a perfect joker makeup transformation.