Get ready to turn some heads with these fashion tips that will keep you looking on top of your game without ever having to hit the gym. Whether you're petite or curvy, these tips will help you create your ideal silhouette. From vertical pleats to high-waisted pants and monochromatic outfits, these fashion hacks will have you looking and feeling your best. So, get ready to boost your confidence and rock that outfit with these summer fashion tips!
How to lengthen or shorten your outfit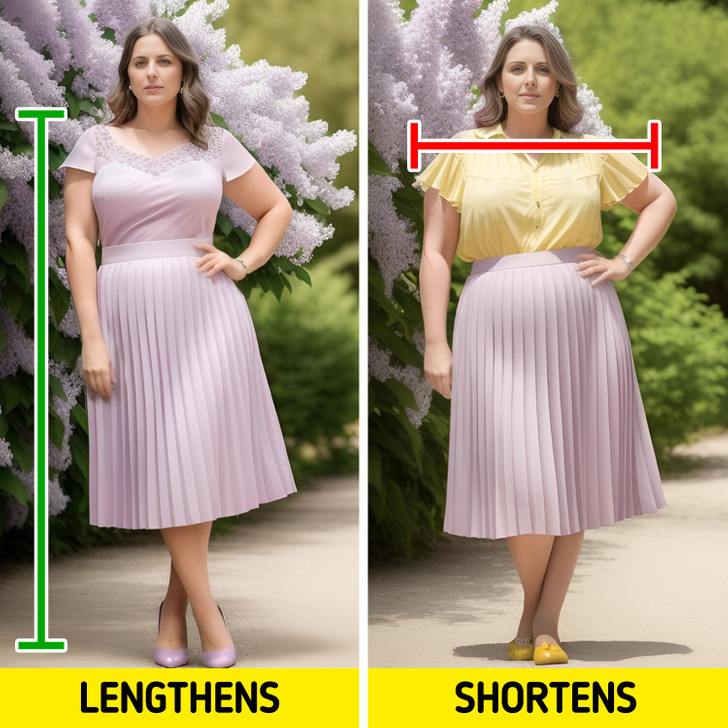 To showcase a beautiful figure in your summer outfit consider going monochrome with pointed heels and vertical pleats. Using the 1/3 — 2/3 proportion rule, find a long vertically pleated skirt and tuck a blouse of the same color into it at the waistline. Along with the heels, this will draw the eye down and make you appear taller and slimmer.
If you'd prefer to shorten your body then switch-up the color of the blouse with one in a complementary color to the skirt. Also exchange the pointed heels for a pair of round toe flats. This will work perfectly to break up the vertical line of your body, giving the illusion that you're shorter and wider than you are.
How to style cropped trousers with shoes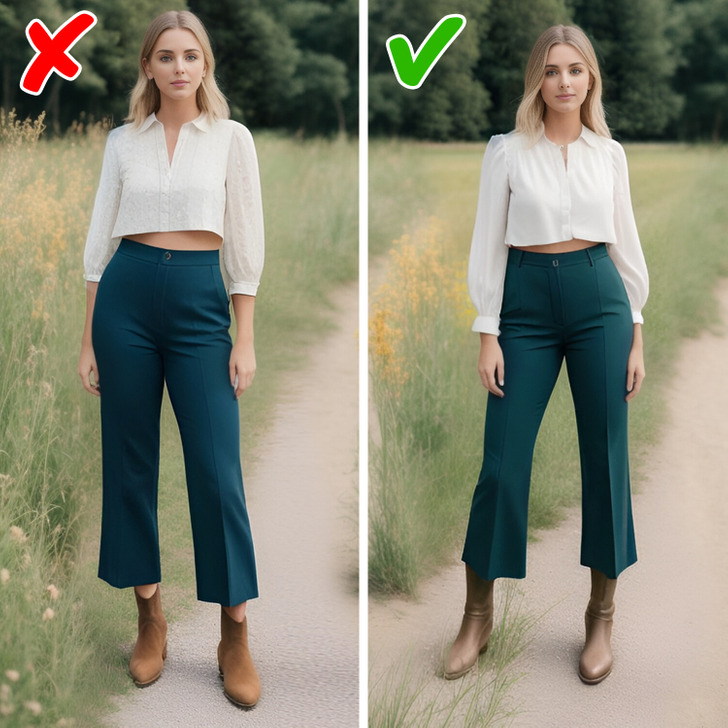 There are a few simple rules for cropped trousers, such as always choosing a boot with a long shaft that doesn't show any skin rather than a shorter ankle boot. This will help to elongate your legs. Also, instead of wearing gym shoes with them, try a casual neutral sneaker that won't distract or break the vertical line of your leg. Or thirdly, opt for a neutral pair of sandals or kitten heels that draw the eye down.
How to style white jeans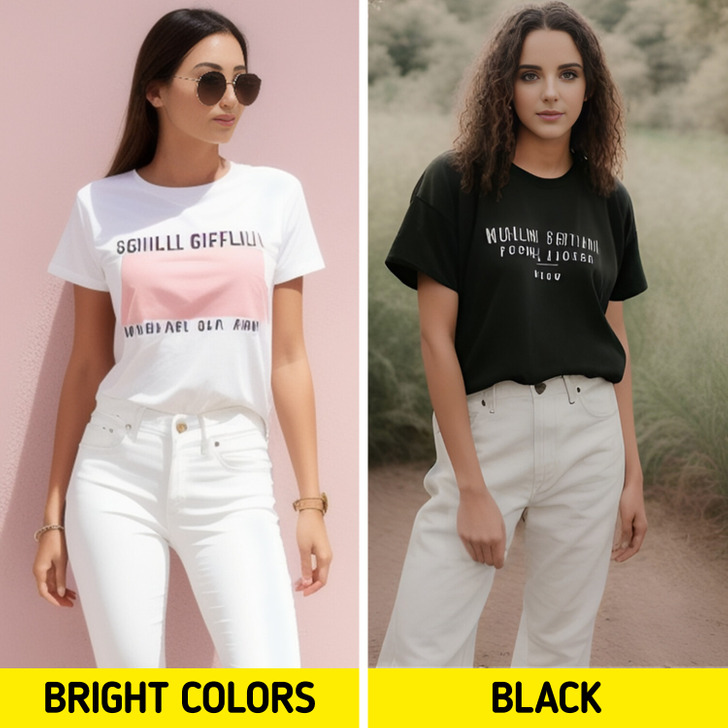 Teaming your white jeans or trousers up with bright colors is perfect for the summer, like with nude shoes and a light colored top. This will create an outfit that looks well-put-together and sophisticated because of its simplicity.
If you'd prefer to pair your white jeans with darker colors then balance the outfit out by going for some black shoes and a black belt along with a dark t-shirt. You can always balance out the black with a neutral colored jacket.
How to look taller and slimmer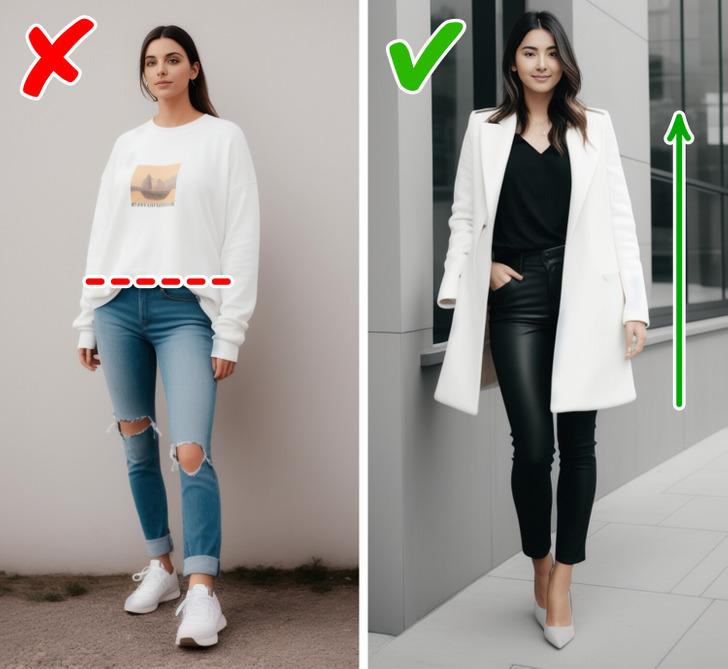 It is much more flattering to tuck your t-shirt into your high-waisted pants than having it hanging down and cutting your body in 2, making your look frumpy and shorter. Instead, opt for long pants (not cropped) with a tucked in or fitted t-shirt, paired with a pair of pointed or almond-toed shoes to elongate your entire silhouette.
To elevate the look even more, use an inner column of the same color and a different color on the outer layer. For instance, go for a black trouser and a matching black top paired with a long jacket in a different color. This will draw the eye up and down and give the illusion that you're taller and slimmer.
How to make your legs look thinner or thicker
If you want to make your legs look thinner under your dress then add a pair of socks to your outfit, while leaving them out of your outfit will help to make your legs look thicker.
How to elongate your legs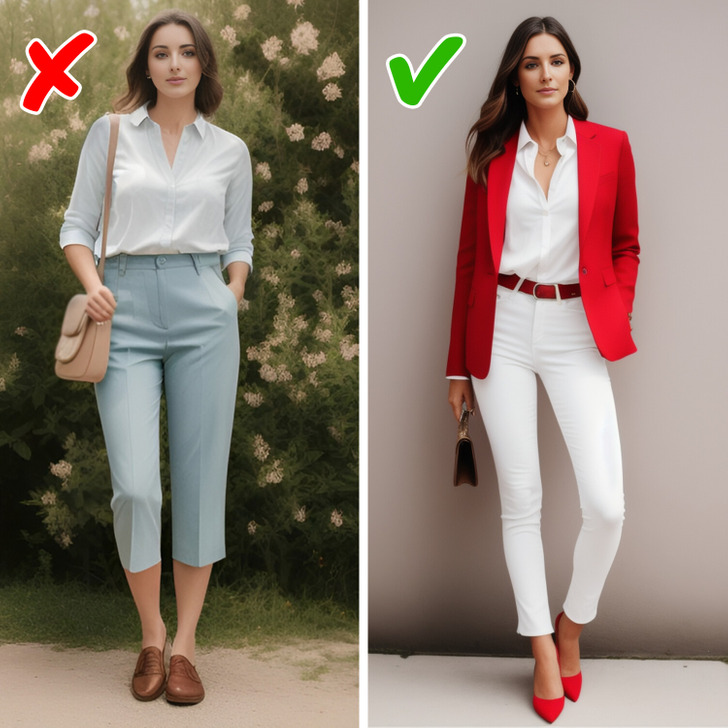 It is essential to wear full-length trousers for this look, making sure that your ankles are covered. Anything above the ankle will cut off your legs, making them appear shorter than they actually are. Pair your trousers with a pointed shoe that will also elongate your legs even more and make you look taller. Avoid cropped trousers or rolling your trousers up to the calf as this will only make you look stumpy.
How to dress for a bloated tummy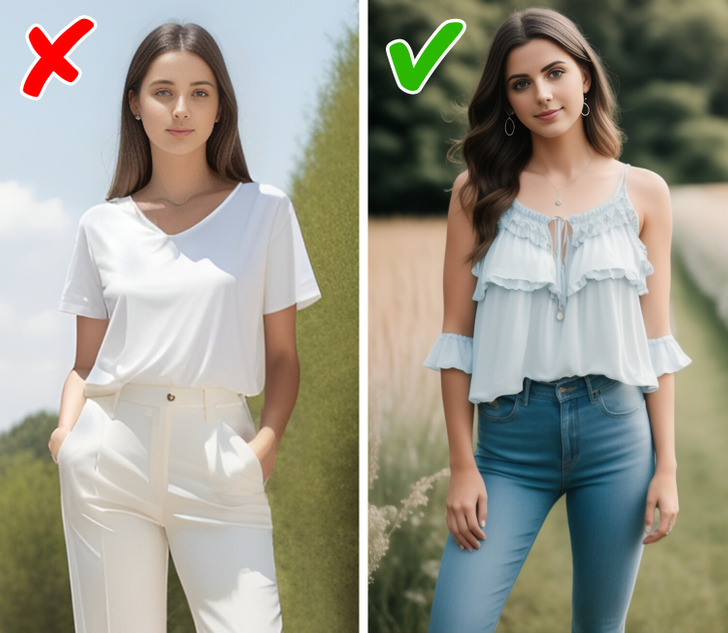 With this outfit it's all about drawing the attention away from the tummy area, so a blouse or top with a lot of attention grabbing details around the bust and shoulders will do the job. Avoid a t-shirt tuck or a bodycon that will draw attention to your midriff.
How to draw attention away from your hips and thighs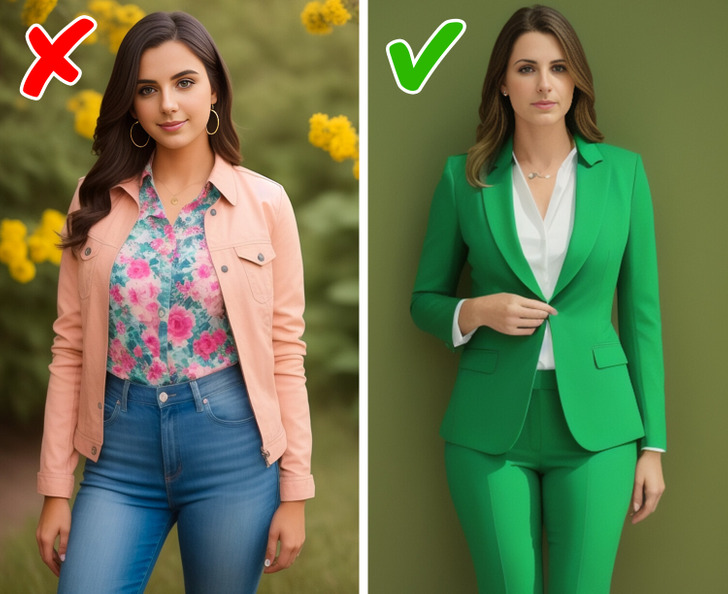 If you want to balance out your hips, create an outer column of the same color with a different inner color. For example pair your green trousers with a green jacket and choose a white t-shirt to go underneath. This will help to add proportion to your body type and flatter your curves.
Some looks are timeless and don't go out of style easily, however trends change so fast that it is easy to look out of date and frumpy at the drop of a hat. That's why it's always important to stay up to date with current fashion aesthetics if you want to stay fresh and stylish.